Welcome to
Kingston Trio Place Talk
K3PTalk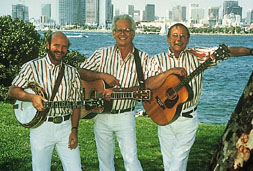 COMING SOON!
The Kingston Trio Place Chat Room
Thanks for stopping by K3PTalk. This is our place to get together and chat with one another as a group or chat privately with another person by using the Direct talk mode. Meet an old friend or make new acquaintances.
This room is open all the time, but currently scheduled every:
WEDNESDAY 9:00 PM EASTERN U.S.A. = 0200 HRS GMT
SATURDAY 10:00 AM EASTERN U.S.A. = 1500 HRS GMT
there will be an unmoderated get together. Here you will be able to meet with like-minded folks and shoot the breeze or try to find any elusive Kingston Trio records, songbooks and memorabilia you have been seeking.
BE SURE TO CHECK, AND ENABLE--IF NECESSARY--YOUR WEB BROWSER'S JAVA-ENABLED STATUS IN YOUR BROWSER'S EDIT/PREFERENCES MENUS
Please observe the usual rules of etiquette for Internet chat and enjoy yourself as you participate in a free-ranging discussion or a topic initiated by those present in the chat room at a given time.
E-mail someone you know--from near or afar--to meet you in the K3PTalk Chat room at a specified time for a visit when there is no scheduled chat. The chat room is open all the time!
Please click on the link below to get to the chat room entry box. Then, IN THE BOX, JUST ENTER A NICKNAME OR YOUR REAL NAME--NO PASSWORD REQUIRED! :
K3PTalk