The Kingston Trio Place
Presents
The "STAR" Of Our Show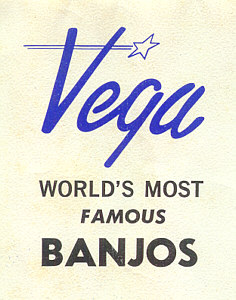 In acoustic music, certain brands of instruments are instantly associated with the various musical genres: Delta Blues with National steel-bodied guitars; Bluegrass with Gibson Mastertone RB-series Banjos, Gibson Mandolins, and Martin Guitars; and Folk Music with Martin Guitars and Vega Banjos.
Every listener of folk music, in the late 1950s to mid-1960s, who aspired to playing banjo, probably lusted after the Pete Seeger Model Extra-Long Neck - 25 Fret model 5-string banjo. I started out in 1963, on a Kay 5-string but like nascent folk musicians far-and-wide, wished for a Vega Pete Seeger 5-string. The closest I ever got to having one was in 1980 when Brian Clancy of The Rising, a Western New York Irish folk group, lent me his for a couple of months for the use of my PA system. Although I was mainly into guitar by then, I loved running through a few of the tunes I'd learned years before from Pete Seeger's banjo book: "Darlin Cory," "Skip To My Lou" and "John Henry." Somehow, I never sounded like Pete or Dave Guard but I sure sounded better on that Vega than I had on my Kay years before!
By the early 1960s, The Kingston Trio and just about all major folk groups were using Vega banjos. When a banjo's sound was needed, Dave Guard, and later John Stewart, played the Vega Pete Seeger Long-neck banjo while Bob Shane used a Vega Plectrum banjo on many of their songs.
Let's step back, now, to the time when folk music was at the height of its popularity and see just what the Vega Instrument Company of Boston, Massachusetts had to offer banjo pickers.
A special thanks to GENE KELLY for sharing this piece of folk-music history with us!
1963 Vega Banjo Brochure - Issued October 1, 1963
Each page of the Vega brochure is a 200 KB JPEG image. Click on the images below to download an enlarged view of each page.
| | | | |
| --- | --- | --- | --- |
| Page 1 | Page 2/3 | Page 2/3 | Page 4 |