The Kingston Trio Place
Presents
The Columbus Tower Demos (circa 1967)
"Now let's move forward to 1967. The public decided folk music was dead and turned its back on John and the Trio, so the KT folded, and John turned his full attention to songwriting. Among the vast number of songs he turned out were three that he called his "Suburbia Trilogy": Daydream Believer, Do You Have A Place I Can Hide and Charlie Fletcher. John Denver, fresh from the demise of what had once been The Mitchell Trio, joined Mr. Stewart for a short-lived duo. They did a demo tape of Daydream Believer, Do You Have A Place I Can Hide and Denver's Leaving On A Jet Plane, and the tape produced yawns all around. End of duo.
Unduanted, Stewart utilized the access he still had to the Trio's recording studio and produced what has become known (and bootlegged) as the "Columbus Tower Demos". The tape contained some newly recorded versions (or perhaps out-takes) of a few tracks from CHILDREN OF THE MORNING, plus Come Gather The Time, a song by the Trio that had not been issued on the album. Way Out There, Any Other Day, Poor Albert Is Gone, The Dogs Are Waiting In The Park, and Come Some Other Morning were the other titles that apparently never found a home, but The Monkees picked Daydream Believer from the pile and took it to the top of the charts for a gold record." - The Kingston Trio On Record
Apparently, John Stewart also enlisted the help of his brother, Mike, and his band, We Five, and several fellow-musician friends in performing these songs. Somehow, he also enabled his friends to record their song compositions. What follows is the three-volume set of the "Columbus Tower Demos". I hope you enjoy them all!
Ken - The Kingston Trio Place - July 1, 2005
Many thanks to Peter (PC) Fields for supplying the artwork from the "Columbus Tower Demos" CDs, and for the inspiration in bringing these songs to fellow Kingston Trio and John Stewart Fans, worldwide!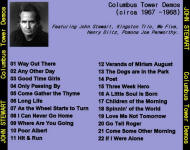 click images for larger image
Front & Back of Columbus Tower Demos - Volume 1
Listen to The Columbus Tower Demos
Volume2
Coming Soon!

Volume 3
Coming Soon!

The Groovy Show
Coming Soon!