KINGSTON TRIO PLACE
FANS' PHOTO GALLERY
Images--from far and wide--of the great people who are the fans of The Kingston Trio
Click on images to get larger view!
I have attached 2 photos of thr Trio, made in either late 1960 or early 1961 (prior to Dave Guard's departure). The unsigned photo is the original made with a Brownie Hawkeye camera. The enlargement which is signed, was sent to an address I got from a fan club, requesting it be autographed. I really never thought I would see it again. A few weeks later I received the photo back with autographs. The photo was made backstage at Twitchell Auditorium at Converse College in Spartanburg, South Carolina, following a concert at that venue. Some of us were allowed to come backstage after the show and the guys were just playing around. I asked to take a photo, and this is the pose they did for me. About 1975, I saw the "new" Kingston Trio at Joe Namath's Restaurant in Birmingham, Alabama, and I showed the photo to Bob Shane, who autographed it again (at the top "Bob Shane 15 years later"). In 2000, I showed the photo to George Grove during a concert at the Stevens Center in Winston-Salem, North Carolina and he said that he did not have any actual photos of Dave Guard and asked if I would send him a copy of the photo, which I did.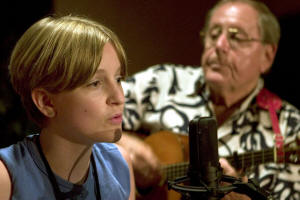 New-generation Kingston Trio Fan, Nikki Sherwin, and Nick Reynolds,
rehearse "Chilly Winds" prior to the main show, at Fantasy Camp 5, 2004.
Photo by "California Roadman," Howard Bruensteiner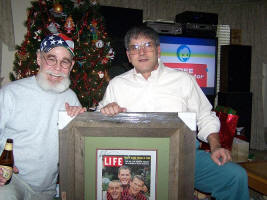 Tom McGoodwin & Max Schwartz, 2005
Max Schwartz relates the story behind his friend, Tom McGoodwin's photo: "Tom's idea of framing the LIFE cover featuring the Trio began at least 25 years ago, and finally became a reality a few weeks ago.
The frame is made from wood that was stacked up beside Tom's grandparent's barn at a farm in Bowling Green , KY. The only problem was that after he hatched this idea, and began to seriously think about carrying it out, his grandmother had died and the farm was sold. Tom tells that, late one night, he snuck back on the farm to obtain the wood and almost got caught by the new owner. That was in the early 1980s. The wood has been sitting ever since at various places where Tom has lived. Tom's plan was to make 3 of these framed editions. One for him, one for his brother, and one for me. He got 2 copies of the magazine fairly easily, but it took him years to get around to finding a 3 rd . Someone told him about a guy who could get all kinds of old magazines, and Tom tracked him down, told him what he wanted, and the next day, the guy handed Tom a copy of the magazine. Tom says the magazine was in excellent condition, except on Nick's forehead there was a rubber stamp imprint that said "****** Public Library." (The name of the library has been deleted to protect the guilty; however, this is the copy that Tom is keeping for himself.)
The next part of the saga entails Tom's getting all the copies autographed. Dave and Nick were the first to sign them and this took place in 1986, at Washington , D.C. Stewart was the next to sign it, and that took some real arm twisting. He said that he had made it a point over the years to not sign stuff with Dave's photo, but Tom explained to him what he was trying to accomplish and he signed it right above the LIFE logo. Shane signed it after a show in Louisville about a year before Nick retired, and Tom had him sign it again in 2002 because he wanted his project to span two centuries.
The next task was to get the frames built. Tom says the wood is weathered oak that may well be 75 to 100 years old. He said the stack of wood that it came from had been next to the barn as long as he could remember, going back to his early childhood. He tried to get several local picture framers to make the frames, but none would do it because they were afraid the hard oak would destroy their saw blades. So, for the past 20 years or so, ever since Dave and Nick first signed the magazines, this project has had its difficulties. However, every time I've seen Tom over this period, he has assured me that he's almost there. Well, on Christmas morning, Tom called and said he wanted to drop by my house with a little present, and of course, the framed LIFE magazine cover was what he brought.
Tom is pretty unique guy, to say the least. We both grew up in the same neighborhood in Lexington , KY. A few days after Elvis was on the Ed Sullivan show, I was with my mom at the A&P and they had the Hound Dog / Don't Be Cruel 45 on a rack. My mom saw it and said, "Don't you want this?" While I was pondering the question, she tossed it in the cart. My guess is that I was about 12 at the time. Not too long after this, I saw Tom and told him that I had gotten the Elvis 45 and he got all excited about this and wanted to hear it, so we went my to my house and I played it for him. About 786 times.
I'm not sure how long it was after this that Tom called me and said, "I've got something you've got to hear." Like so many Trio fans, Tom had an older brother who was in college, and he had bought the first Trio album. The rest, as they say, "is history."
Over the next year, Tom tracked down every folk recording that was available. He had the complete Folkways series. Old Weavers 78s. Everything. Tom became a walking folk music encyclopedia. Tom owned the first component stereo system that I ever heard. The big 15 inch Electro-Voice speakers were housed a cabinet that came in kit form that you had to glue together and stain. There were two separate amplifiers. They were made by a company, the name of which, I can't remember, except it had a genie's lamp as a logo. I don't remember anything about the turntable except it had a gigantic tone arm.
Tom is a year older than me and he graduated from high school in 1961. We saw less of each other after he started college, but until then, I got to hear for the first time, at Tom's house, every folk album that came out. In addition to the Trio, Tom introduced me to the Limelighters, John Stewart (when he was still with the Cumberland Three), and Gibson & Camp. The walls of Tom's room were paneled with knotty pine. Sometimes when I hear some of the songs on these albums again, I can smell the pine.
Tom's first instrument was an old Martin tenor. He eventually traded it for an old banjo. He got some kind of job after school and was able to buy a new Pete Seeger Vega. In about 1964, the apartment he was living in caught fire and many of his possessions were burned, including the banjo. When he got the insurance money, he called Vega to order a new one that he wanted built to his specifications. Tom has really big hands and one of the things he wanted was a wider neck. When he got through telling the person at Vega what he wanted, he was told they were building Pete Seeger a new banjo that was almost exactly like the one he had requested. When he heard this, Tom told them to forget everything he had just said and asked them to build him a banjo exactly like the one they were making for Pete.
Now, that was over 30 years ago. The banjo has been Tom's constant companion over these years, and he is like all serious banjo players from this era. He's had many conversations with Pete, and their thinking about many things are the same.
The day Tom got his driver's license, Shelly Berman was doing a show in Louisville , and Tom's parents let him drive the family car to see the show. Tom didn't know it before he got there, but opening for Berman was Stewart and the Cumberland Three. After the show, Tom went back stage and he says they talked banjo extensively for many hours into the night. After graduating from high school, Tom joined the National Guard and was sent to Oklahoma for the active duty portion of his training. While he was there, the Trio did a show somewhere close by and he got to see them for the first time. That's kind of the way it was for Tom all through the 60s. Due to crazy circumstances, he always seemed to be in the right place at the right time and got to see all of the folk era performers. Tom is a great story teller and hearing him tell about a show is the next best thing to being there.
Tom and I have been to many Trio shows together. When we first started going to these shows, the guys didn't know me from Adam, but they always remembered Tom. He has this coat that he used to wear that looks like he might have acquired it on e-bay from a seller that used to be a clown in Barnum & Bailey's circus. If he's not wearing it when we see the guys, they always ask, "Where's your coat, Tom?" We've had some great conversations with the guys over the years.
When the Trio did a show here a few years ago, I drove George by Tom's house in the old neighborhood and showed him the window I used to crawl through to get in his room. For me, that was taking it all full circle.
Tom and I always see each other during the holidays. He's my oldest friend. He reminds me a lot of the rabbit. He's always rushing to somewhere else that he's always late for.
For me, this monument to the Trio that Tom has built is very special. It reminds me of all the great times we had with them, but most of all, it reminds me of what it was like growing up in the 1950s in a little town where you thought that actually ever getting to see anyone like the Trio would never happen. That was the attitude that people had here back then. Tom proved them wrong. He got out and discovered this wonderful world of music. He served as an example for me. He showed me that if you wanted to do something bad enough, you could. This changed my life, and I owe it all to the Trio and Tom."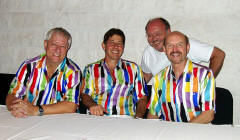 The Kingston Trio: Bill Zorn, Bob Haworth, George Grove, with devoted fan, Eric Gunderson (standing),
following the June 19, 2005, performance at the Spencer Theater, outside Alto, New Mexico.
Photos courtesy of Eric Gunderson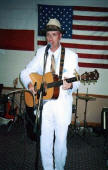 Jacky Jack White at the Jimmie Rodgers Festival in Meridian, Mississippi.

Jacky Jack White relates, "I record for Silverwolf Records and have written hit songs for artists such as
Steve Wariner, Charley Pride, Ray Stevens, etc. My latest CD on Silverwolf is "Sentimental Southern Boy."
About a year ago, I reintroduced myself to the Trio's recordings. Eventually, I collected about everything
they had done. It was a great honour to meet Bob Shane, and talk on the phone with Nick Reynolds.
They really re-inspired my work, especially performance-wise. I like every incarnation of the Trio.
I saw George, Bobby, and Bob perform a few months ago. They were marvelous.
I enjoyed getting acquainted with George. He is a real musician's musician."
Jacky Jack White is also host of the Sucarnochee Review, musical review showcasing the artists and sounds of
the Black Belt region of Mississippi and Alabama! Shady Grove Web Radio will carry shows in this series per station schedule.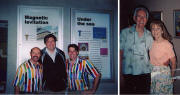 Photo Left: George Grove, Ken Brock, Bobby Haworth at Old Dominion University, Norfolk, Virginia, March 19, 2004.
Regarding the right photo, Ken Brock relates, "Frank and Mary Hamilton at home in Decatur Georgia, June 2004.
Frank was banjoist on "Sing A Song With The Kingston Trio", in the Weavers 1962-3, first instructor at Chicago's Old
Town School Of Folk Music, and teacher on guitar and/or banjo for bunches of people, including Roger McGuinn, Janis Ian,
Linda Ronstadt, Michael Murphy, Jerry Douglas, Karla Bonoff and Bernie Leadon (Eagles)."
Listen to Ken Brock, WBYM, AM 1490, Hampton, Virginia, as he interviews George Grove on June 11, 1999
Photos courtesy of Ken Brock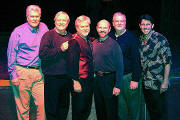 After the show at the El Campanil Theater in Antioch, California, January 22, 2005.
George Heath, Bill Zorn, Ken Scarboro, George Grove, Norm Leighty, and Bob Haworth
Ken Scarboro relates, "Norm Leighty, George Heath, and I have a folk group called
Vintage Folk, in Sonoma County, California. We play mainly Kingston Trio songs."
Photo courtesy of Ken Scarboro


Joel Brown with Bill Zorn, Bobby Haworth, George Grove and with Bob Shane
The first photo was at the Cripple Creek outdoor (rain) concert this past Father's Day. The guy taking the picture wore a Santa outfit and went only by the same name. What a really great weekend. A full-sized and autographed version hangs on my Kingston Trio wall at the office!
The second was shot during the intermission at the recent Mesquite concert. Bobbie took the photo for me. Bob both looked and sounded wonderful and it was a really special night. I have many Trio photos; these are amongst my favorites!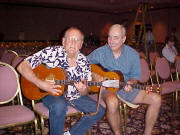 Nick Reynolds And Bruce Blazej - The Two Tenors!
Bruce says, "Here's a photo of me with Nick Reynolds taken at the Trio Fantasy Camp on August 12, 2004.
Nick is holding my 1954 Martin O-18T, and I am holding his 1928 Martin 2-18T. He had converted
the 2-18 to an 8-string, and then had it reconverted back to it's original 12-fret form as a 4-string.
He told me never to have my tenor refinished, as he had it done, and it ruined the sound.
It sure was fun to hold a 'piece of history' in my hand!"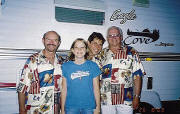 Nikki Sherwin meets The Kingston Trio!
After the show in St. Paul, Minnesota, August 15, 2003, with George Grove,
Bobby Haworth, Bob Shane. Nikki represents a new generation of fan
discovering the joys of Trio music!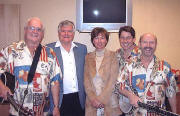 Marianne & Cor van der Heijden-van der Stelt with Bob Shane, Bobby Haworth, George Grove
backstage at Sycuan Casino, El Cajon, California, March 24, 2003.
Marianne and Cor traveled all the way from The Netherlands to see The Kingston Trio perform!
Photo courtesy of Nikki Gary, Fuji Productions, Inc.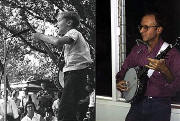 Pastor Harry Timmins
Aloha from the 50th state. Your website has brought back so many memories, THANK YOU! I first heard the Trio at my Uncle's on Thanksgiving. My cousin had The Kingston Trio & Live at the Hungry I on the Hi-Fi, and I was hooked! I had been taking guitar lessons a few years, and because of Dave Guard the banjo became my main love. Pictured is me at the 1st Topanga Canyon Banjo & Fiddle (I won 1st in traditional beginning), the picture was from Sing Out magazine, I was 10 years old. The other is recently at a party for kids at our church (I'm leading musical chairs!). I saw the original Trio with Buckwheat on bass at The Hollywood Bowl with Odetta opening! WHAT A SHOW! I collected all the Trios records until the hippy era and rock & roll took over, but I'm glad to be back to acoustic folk & gospel now. Thanks again for the memories, Ken, know that we appreciate you and your work! Aloha & God Bless , Pastor Harry Timmins, Lahaina, Maui.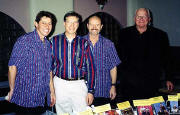 Bob Haworth, Rob Reider, George Grove, Bob Shane
Backstage, Friday, January 10, 2003, Findlay, Ohio
Read Rob's special story of how he came to play a concert with his all-time favorite singing group!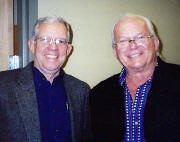 Author, Bill Crider, and Bob Shane backstage before the Trio's
concert with the Austin Symphony. December 30, 2002.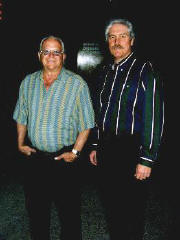 Bob Shane with George Heath at the Luther Burbank Performing Arts Center,
Santa Rosa, California, Saturday, March 4, 2000.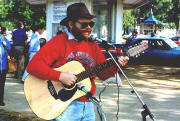 Reverend Craig Jones
Explains Craig, "Here's a picture taken when I entertained people standing in line to get
into the White House in 1991. I did a 50 minute set of Kingston Trio
songs and at the end took an entourage to the front of the Line to tour
the White House. George Bush Sr. sent me a thank you, and it and the
picture hang in my office. Dad worked at the White House until 1985 and
he met the Trio because he fluoroscoped their instruments in the mail
room. I met up with them later."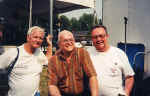 L to R: Colonel Jacob B. Huffer, Colonel Bob Shane, Colonel Larry Crawford, at The Kentucky Colonels Barbecue, May 6, 2001.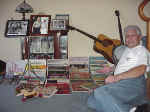 Ron DiNezza has been a Kingston Trio Fan Of The First Degree from their beginning. Here he displays part of his Trio stuff!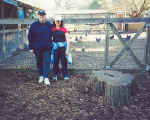 David & Matija Ruiz at San Antonio Ranch Park, about 50 miles south of San Francisco, in the Coastal Mountain Range. January 2001. Their favorite Kingston Trio song: "The First Time (Ever I Saw Your Face)."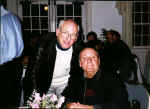 Richard Glueck and Nick Reynolds
At the reception following a concert in Rochester, New Hampshire in September 1999.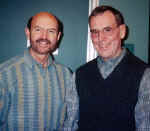 George Grove and Dave Long at the merchandising table, Harrisburg, Pennsylvania, January 2000.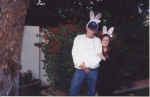 Tom & Sally Drake
Tom and Sally were vacationing at the home of Bob Shane and Bobbie Childress. The ears? Sally says, "We only sprouted them when we got to Phoenix and had so much to talk about and listen to. Big hint: Never play hearts with those two...they are Zen masters."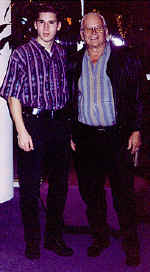 Manuel Jakab, President of The Kingston Trio Fan Club Of Austria, with Bob Shane after the show at The Performing Arts Center in Lancaster, California, February 4, 2000. Manuel says, "Please notice the ORIGINAL Kingston Trio Striped Shirt I´m wearing, I'm VERY proud of it!"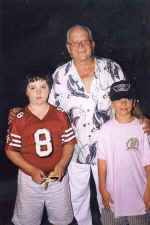 Cody Risser, Bob Shane, Max Risser,
at Florham Park, New Jersey, August 1999.
Brian, the twins' Dad, says, "...they are both big fans of The Kingston Trio!"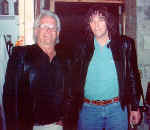 Bob Shane and Pat Keating in the basement of
Boodles Opera House in Chester, New York a few years back 'bout 1990.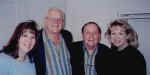 Joanne Oyler, Bob Shane, Nick Reynolds, and Marilyn Hales after a performance on April 10, 1999. At age 10, we would go to Lagoon
Amusement Park in Farmington, Utah, and hear The Trio. We would stand for
hours on a dance floor at the front of the stage just to be close. We were able to meet Nick and Bob and George 37 years later. It was a great experience!

Brad Newell and George Grove after the concert
at The Mohegan Sun, Uncasville, Connecticut, March 24, 1999
Avalon Newell, Brad's wife since November 7, 1969, says,
"My husband, Brad, has 29 of The Trio's albums and CDs too.
Brad's love of The Trio predates our marriage. Even after being
married to him for 30 years, I still ask him if he loves me or The Trio
more. In the interest of having his clothes washed and the
housekeeping done, he says he loves me more!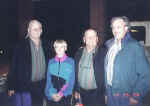 The Tuckers, Greg Jr., and Greg Sr.,
with Bob Shane and Nick Reynolds after the show in
Courtland, Virginia, October 25, 1998.
Dad says, "Greg Jr., is now 13 and though he is fluent in today's
music, he probably knows the lyrics to more Trio songs than I do!"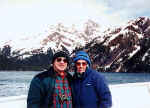 Dan & Phyllis Hartline
Long-time Kingston Trio fans, Dan & Phyllis, wish to say,
"Thanks for all the prayers! This picture was from our trip to
Alaska and Kenai Fjords last May (1999). Sorry Jamey,
the boat wasn't named High Heel Shoes! God Bless!"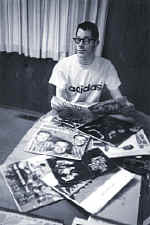 Robert McConnell relates that
The Kingston Trio helped him over many rough times
when he was younger. Here's an old photo of Robert
browsing a Kingston Trio article in a music magazine
while before him is some of his Kingston Trio stuff.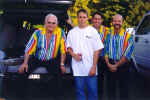 Bob Shane, Jamey Hamilton, Bob Haworth, George Grove
Manassas, Virginia, Saturday, September 25, 1999

left: The New Kingston Trio & Larry Crawford
at Brandy's Wharf Dinner Theater,
Philadelphia, Pennsylvania c. 1971
right: Bob Shane & Larry Crawford, June 10, 1987,
Washington, DC, 30th Anniversary Concert Of The Kingston Trio
Larry is wearing a gold "Tom Dooley Noose & Chain," a birthday present
given him by Bob Shane.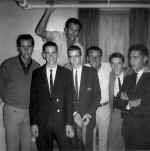 Backstage at Detroit's Masonic Auditorium, October 1963.
Our folk-singing group The Villagers with The Kingston Trio.
From left John, Bob Gill, Bob, Rick Bowen, Nick, (myself) Tom Lamb
and Gary Sullivan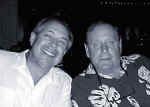 Jesse Bravo and Nick Reynolds at The Sutter Club,
Sacramento, California, where The Kingston Trio performed
on August 28, 1999. Jesse, a photo-journalist whose images have been
featured here at The Kingston Trio Place, has known Nick since 1964.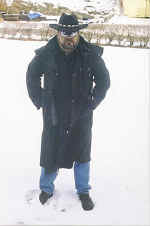 Jim Brady, of Philmont, New York, says,
"Been a Kingston Trio fan for over 40 years ..."

Peter Curry (l to r): In Ft. Lauderdale, Florida, doing my best Dave Guard imitation, c. 1963; With Ramblin' Jack Elliott at Grendel's Lair in Philadelphia, c. 1973; In "Full Kingston" (striped shirt, white Levis and newly acquired Vega Pete Seeger banjo), c. 1986.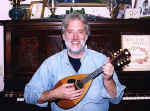 Long time Kingston Trio fan Cap Lee playing
a "turn of the century" Wurlitzer mandolin.
1904 Baldwin piano in background.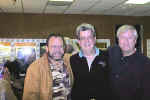 "The Titanic Trio" Oscar Cisneros, Ben Schubert, Bill Zorn.
Bob Shane and Nick Reynolds are in the background. Backstage,
Sun City West at The Sundome Auditorium, January 23, 1999.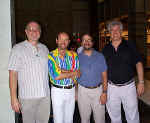 Ken Laing, George Grove, Russ Scinta, Rick Valente
after the show. Roberts Wesleyan College, Rochester, New York,
Saturday, September 19, 1998.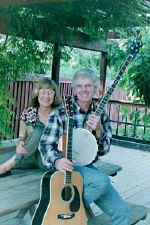 Joni & Terry Shields. Terry is holding
his much-loved Deering Vega Long Neck banjo
and Martin D-45VR.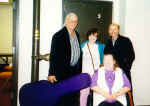 (standing) Bob Shane, Susan Keller (Suzy-q), George Grove, (seated) Betsy Scott.
Backstage at Wilkins Auditorium, St. Paul, Minnesota, May 15, 1998.
Suzy-q relates that Betsy is the one who loaned me her Kingston Trio records
after I heard them singing for the first time and asked her, "Who are they?"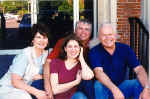 Tony Lay & Family: Christa, Julie, Tony, with Bob Shane at
the afternoon rehearsal before the evening performance of
The Kingston Trio with The Memphis Symphony at Eudora Auditorium,
Memphis, Tennessee - May 1, 1999.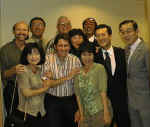 Kingston Trio & Friends at Sweet Basil 139, Tokyo, Japan, June 18, 1999
George, Akemi (Shu's wife), Shu, Bob Haworth, Bob Shane, Nayomi, Kyu, Shin, Tommy, Ken
Shu and his friends are members of The West Hill Singers, a folk-music band that is inspired by the Kingston Trio and other great American folk musicians.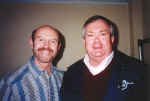 George Grove, and Rick Daly of Folk USA, March 26, 1999,
at Peekskill, New York, before the Trio's concert there. I spent a
good half hour with George, Bob and Nick before the show. It was a
wonderful time. I got pictures, autographs and memories for a lifetime.
George is a true gentleman and a fan's idol.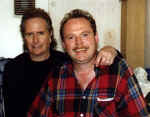 John Stewart and Bob Elliot at The Turf Inn, Dalry, Scotland, April 18, 1998.
Bob's John Stewart UK Fan Page is a fine tribute to John and his music.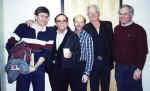 Curt Dalton (left) and brother Steve (right) at the Calvert Performing Arts Spring Series - Channeyville, Maryland, March 11, 1989 - Curt says, "My brother and I have been fans of the Trio since our childhood. Back in the early 60s, their At Large album christened the family's first 'Stereo', a Magnavox console unit that was selected for its furniture appeal as much as its fidelity. When their CDs came out it was like a rediscovery."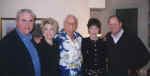 Bob Shane with friends Gene and Gail Kelly (left) and Cathy and Mike McGarity
before the show at The Partridge Inn, Augusta, Georgia, March 4, 1999.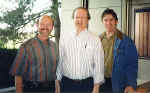 George Grove, Jerry Peterson, Paul Gabrielson at the CD table after 2 PM concert - Toledo, Ohio, April 14, 1999.



If you have a favorite photo of yourself with or without members of The Kingston Trio (any era) and would like to share it with visitors to The Kingston Trio Place, please send it to me for inclusion on this page. Think of this page as a visual link to your Kingston Trio Place Web Forum/Comment & Guestbook visits.

You can submit photos by regular mail or e-mail. Remember to include a note about the time and place of the photo and the folks in it.

Send by regular mail with an included self-addressed stamped envelope (if you want photo returned) to:

Ken Laing
931 Tait Avenue
Rochester, NY 14616
(USA)

Send by e-mail by scanning the photo at 150 dpi (Please, if possible, not less than 150 dpi) and saving it as a .jpg file type. Please do not compress the resulting .jpg file but leave it at the 1:1 ratio. Attach the .jpg file to your e-mail and send to:

KLAING@rochester.rr.com

Thanks!

Ken