THE KINGSTON TRIO PLACE
Presents
The Kingston Trio
PICK-O'-THE-WEEK
Hear your name and request as part of a show on Internet radio station:
Shady Grove Radio


Log-in & Listen!
Program Playlists with Your Name and Song listed
Most of The Kingston Trio's album titles are available from the following companies:
The Kingston Trio Store at KingstonTrio.com
All issued Kingston Trio albums, including those from the Guard-era and Stewart-era, are available here on CDs, and some on cassettes!
Get your Guard and Stewart Two-Fer CDs here!

Rediscover Music
(or dial 800-232-7328)
Collectors' Choice Music
(newly-released Kingston Trio John Stewart-era Two-Fers & The Last Month Of The Year)
Available Kingston Trio videos: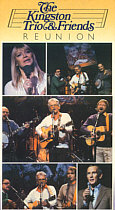 Reunion (originally featured on PBS in 1981) - WhiteStar 1668 VHS
order from: Kultur International - Telephone 1-732-229-2343
Available Kingston Trio books:
The Kingston Trio On Record by Ben Blake, Jack Rubeck and Allan Shaw is one of the authoritative sources of information used by The Kingston Trio Place. This book may be ordered from amazon.com and Rediscover Music (or dial 800-232-7328)