THE KINGSTON TRIO PLACE
SITES OF RELATED INTEREST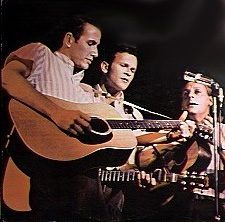 The Chilly Winds - This band has made it a passion to recreate the songs and sound of the the bands of the Folk Era, and they've nailed it all very well! What's neat is that in doing so, they allow their own personalities to color the sights and sounds of their show for an enjoyable Folk Music experience!
The Vivid Air - Want to read some well-written opinions on not only The Kingston Trio and Folk Music but on other issues of our times? Then, visit The Vivid Air, where Jim Moran, a long-time visitor and poster to The Kingston Crossroads message board, shares his thoughts with all willing to read them! You can share your feelings about this site's postings, for all to view, via the "Post A Comment" link at the bottom of all articles.
Bob Haworth.com - the Web site for former Kingston Trio member Bobby Haworth.
Bloodnotes - John Stewart fan, Howard "Roadman" Bruensteiner, has created a fine John Stewart fan site with photos and information!
Back In Town - A new Tokyo restaurant/nightclub featuring live folk music! You may hear John Stewart, The Kingston Mark III and The New Frontiers at this wonderful venue!
www.kingstontrio.com - The Kingston Trio's own Web site!
Old Ben's Music - Ben Blake, Kingston Trio and folk-music historian, and writer of numerous liner notes for many Kingston Trio compilation-record collections, including The Kingston Trio: The Capitol Years, has a new Web site that is sure to add much insight for fans into the folk-music scene past and present!
The Kingston Trio Liner Notes - Kingston Trio devotee, Jerry Kergan, has a wonderful repository of Kingston Trio album-liner notes along with much other material and many links to Kingston Trio-related content. A must-visit reference and entertainment site for any fan!
West Hill Singers. From Japan, our friend and folk-music enthusiast, Shuichi Fujimori, has created a Web site showcasing his and fellow friends' folk group the West Hill Singers. Shu says his group gets much inspiration from The Kingston Trio and other American folk groups!
The Brothers Four Fan. Visit this neat Japanese Web site's in-depth tribute to The Brothers Four.
Julie & Brownie. "Rolling River" (recorded by The Kingston Trio) writer, Brownie Macintosh, and partner, Julie Thompson perform their brand of folk music as "Julie & Brownie." Visit this versatile duo's Web site for booking information, and to purchase their children's books and cassettes.
Morgan Evans's Kingston Trio Tribute Page. Morgan has started a page with posted song lyrics from several Kingston Trio albums.
Barry McGuire Page. Being a Kingston Trio fan, you probably listened to many other folk groups. If you remember The New Christy Minstrels, then you remember the intensity of Barry McGuire. Later, he carried his intensity on to his 1965 solo album and hit record of the same name: The Eve Of Destruction. Visit this site that highlights the career of this artist that is still performing strongly today.
acousticmusic.net. Find links to many of your favorite artisits' Web sites here and find out the latest acoustic-music news for Southern California and beyond.
Dr. America: The Lives of Thomas A. Dooley, 1927-1961. For your reading pleasure, the prologue from James T. Fisher's biography of Dr. Tom Dooley and his association with The Kingston Trio.
The Dave Guard and Richard Johnston collection of Kingston Trio materials (1956-1986). If you're ever in Milwaukee, stop by The University of Wisconsin's Golda Meir Library to view this collection--much of which is from Dave Guard's personal memorabilia from his days with The Kingston Trio.
Kenniford Laing's Short Story TRAMP. Stories, literary and cultural links, and, since it goes along with my state-of-mind so well, a Kingston Trio RealAudio song stream.
John Stewart UK Fan Page. After Dave Guard there was John Stewart. Our friend, Bob Elliot, in the United Kingdom, has created a colorful, in-depth look at this many-faceted artist who continually seeks to illuminate the people and places of our world. With great photos, sound clips and articles including all John Stewart related content from the legendary country/folk/rock magazine, Omaha Rainbow (1973 - 1988).
WKSU-FM 89.7 Kent State University Radio. Listen to real-time RealAudio radio broadcasts while browsing The Kingston Trio Place or surfing the Web. Click on the WKSU LISTEN LIVE icon on Friday, Saturday and Sunday nights, 8:00 PM to Midnight Eastern, to hear real-time broadcasts featuring established and neo folk-music performers. At other times, to hear archived recordings of a previous night's or weekend's folk-music shows, click on FOLK MUSIC ONLINE.
Clack's Cellar. Remember your favorite club--or maybe you still go there--you know, the one you walk down an alley and a flight of stairs to get to? Ron Beffa has created the smokey warmth of a backstreet bistro in his gathering place for fans of John Stewart, The Kingston Trio and many other folk-style bands and performers.
C.F. Martin & Company. A link to the venerable guitar-maker whose instruments fueled the Folk Era!
The Judy Henske Fan Page. When Dave Guard left The Kingston Trio, in 1961, he formed The Whiskeyhill Singers along with David Wheat. Judy Henske, with her big, distinctive, and melodious voice was a vital part of the sound of this short-lived group. Keith Hanlon has developed an in-depth tribute to this exciting performer who has maintained her career to this day.
Folk U.S.A. Rick Daly has compiled an impressive list of sites relating to folk music and its artists including The Kingston Trio. Also, folk music news and links to folk sites that feature artists' touring schedules, information about folk instruments, and lyrics and tablature to hundreds of folk songs.
The Limeliters. In all likelihood, if you were a Kingston Trio fan, you were a fan of The Limeliters. So soon will we not forget Max Gouliss or any of the other fun and slightly irreverent images this group gave us.
The Record Finder. Looking for old 45s and 78s? With over 40 Kingston Trio 45s in stock, and old rock & roll and country RealAudio streams to listen to while you browse, you've got to check this out! Enjoy!