THE KINGSTON TRIO AT THE CHAUTAUQUA INSTITUTION AMPHITHEATER
CHAUTAUQUA LAKE, NEW YORK, JULY 24, 1998
Once upon a time, when I was young and dreams were new, it was Sunday, May 7, 1967. The day had been cold and sleeting with ice build-up on the roads. That evening, we went anyway. How could we not? It was to be the end of an era--a Farewell Tour--and it was passing right through Rochester, New York.
The Auditorium Theater, a third filled, compared to the capacity crowd eight months earlier, was somber. I kept turning around in my seat, looking toward the back entrances, hoping the room would magically fill and help remove the emptiness I felt, inside and out.
"Ladies and gentleman ..." out they came, running and smiling, the small crowd all applause and cheers. Too soon, it was over; we all wished it would go on forever ...
Well, if forever could be termed more than thirty years--with no sign of stopping--then it went on and will keep going on! I got an e-mail back in March saying I'd like you to be my guest at our show at The Chautauqua Institution in July. So what would you do? Last Friday afternoon, July 24, 1998, my brother, Andy, and I drove down to Chautauqua Lake in Western New York to meet them. At the hotel, I tell the desk-girl we're here to meet Bob Shane of The Kingston Trio. "Oh," she says picking up the telephone, "they're so nice, not like some of them we get in here!" I don't feel as nervous as I did a moment ago.
| | |
| --- | --- |
| | A couple of minutes later, Bob Shane enters the lobby, smiling, wearing a green Hawaiian shirt under a white-sports jacket, with white slacks and shoes, and proffers his hand putting me at ease. Outside, waiting for our transportation to come, he tells at least a dozen jokes and stories and answers our questions. I ask him about his guitar. He says take a look at it and I do. It's a Martin HD-28PSE. George and Nick come out and we meet and chat. The desk-girl is right! Out come Paul and Ben as the promoter's vehicles pull up. The Kingston Trio and Paul get in the white van and Ben, my brother and I follow them over to the concert in the car. We pass many people and vehicles as we near the Institution. I get more excited--maybe it would be sold out! |
There are many images of The Kingston Trio burned into my mind from years before that I can quickly describe to you. One of the strongest is an onstage photograph featured on the back of the Sold Out album taken at the Chautauqua Institution Amphitheater in 1959. I always thought that shot photographically froze the powerful excitement of a live Kingston Trio performance better than any other! After over thirty-one years without seeing them, my live re-introduction to The Kingston Trio was going to happen in a perfect venue, and with sunshine, light breeze, and seventy-degrees, in perfect evening weather!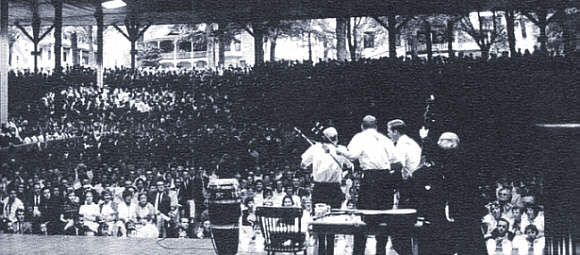 We all pull up behind the Amphitheater and walk toward the stage doors. I walk along with Nick and as we approach the steps a kindly-looking gentleman introduces himself as Norm Gauch. Norm is, as many of you are, a frequent visitor to The Kingston Trio Place Web site. He says Russ Scinta is also here and is holding onto the prime seats they managed to get for the show. It's kind of neat to think that after almost a year, I was meeting some of the folks that have dropped by the site to chat. I tell them I'll get out to see them later.
| | |
| --- | --- |
| Backstage, everyone mills around a bit and the Trio go into their dressing room. Before long I hear George picking away on his banjo. He comes out of the dressing room with his 40th Anniversary Kingston Trio Limited Edition Vega long-neck and stands practicing the solo for Brownie Macintosh's "Rolling River." I snap a photo. This is one of my favorite newer Trio songs but George indicates he is just warming up his fingers with the song's intricate patterns and it will not be a part of this evening's program. Bob and Nick come out of the dressing room and Keith, the stage manager yells, "One minute." Then, the announcer says ladies and gentleman ... | |
I rush around to the stage-right Amphitheater entrance where I snap a flash picture of the Kingston Trio starting their show with "Hard Ain't It Hard." The plus fifty-five hundred people's roaring applause shakes the venerable structure at the song's conclusion. The show continues on, a feast of classics, each, obviously, favorites with the crowd. One of the musical highlights of the show is the beautiful trademark harmony Bob, Nick and George achieve on Gordon Lightfoot's "Early Morning Rain." The group does some of their better known tunes including several crowd pleasers. Bob tells many jokes, including some new ones, and has the crowd in stitches.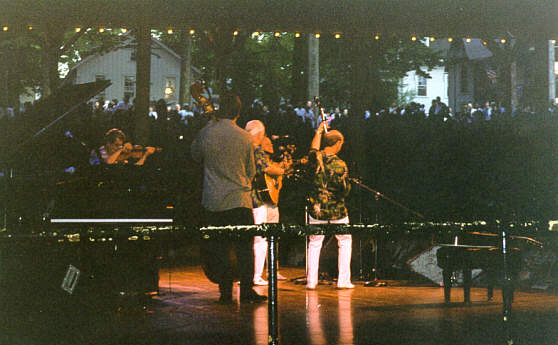 Nick is in a fun mood as he pounds out the ever-popular "M.T.A." This is a song that everyone in the crowd knows. As they sing along, Nick shows obvious pleasure at doing it!
Now, George performs solo on "Middle Of The Night" a musical and emotional tour-de-force from his new CD, "In The Middle Of A Life." This acoustic guitar-powered song, with Paul on upright bass, demonstrates George's musical virtuosity as he lays this jazz-rock flavored tune out to a very appreciative audience. I think enough can't be said of George's contributions to The Kingston Trio over the past twenty-two years. He melds with Bob and Nick in all aspects of performance and is a sincere and gracious person offstage.
Perhaps, the biggest moment of the evening is when the first notes of "Tom Dooley" jump off of George's banjo. The applause and cheers are at least twice as loud as any before or after. Everybody sings along and things are cooking! The only down is when the banjo flavor of the song is lost when George breaks a string on his banjo. This doesn't diminish the crowd's appreciation for this chestnut a bit though!
Next, "Scotch And Soda" brings out the mellowing warmth of Bob's baritone. His HD-28PSE sounds rich as the Amphitheater's acoustics and sound system float the distinctive Martin tone that fueled the folk-boom out to the audience. Bob and this song haven't lost anything to time and I think he does it better now than the last time I saw him do it live over thirty-one years ago.
What is to be the last song of the Trio's set is "Worried Man." The song has the crowd singing along and when the boys start to leave the stage, the folks call them back with a standing ovation. Taking the microphones again, they finish up with their song of farewell, "I'm Going Home." Again, to a standing ovation, they leave the stage, Nick taking somewhat longer than he did years ago--hey, we're all getting older!
I'm pleased to say that The Kingston Trio still have it and after all these decades, I enjoyed their show more than ever.
Back at the hotel, we say goodbye. I'm already looking forward to when I'll be seeing them again, this September, up in Rochester, New York!
Ken Laing - July 25, 1998
SONGLIST
| | |
| --- | --- |
| 1. HARD AIN'T IT HARD | 08. MIDDLE OF THE NIGHT |
| 2. THREE JOLLY COACHMEN | 09. ANN |
| 3. EARLY MORNING RAIN | 10. TOM DOOLEY |
| 4. GREENBACK DOLLAR | 11. SCOTCH AND SODA |
| 5. THE MERRY MINUET | 12. WORRIED MAN |
| 6. AH, WOE, AH, ME | 13. I'M GOING HOME (CALIFORNIA) |
| 7. M.T.A. | |