Dave Guard
October 19, 1934 - March 22, 1991
... Remembering Dave: A Birthday Tribute in song and photo ...
Dave Guard - 1960 Kingston Trio Concert Tour Book - courtesy of Tony Lay
From the beginning, it was always the sound. The sound was professional. The sound was smooth. The sound was accessible and instantly comfortable. But, the sound had an edge! Was it pop? Was it folk? Was it blues, calypso, or jazz? Maybe it was a bit of all these with a lot of verve thrown into a wonderfully, eclectic repertoire. It was fresh and quirky and fun. It could evoke in a listener vivid images and emotions song after song; to listeners, the music moved!
And, in the beginning, there was Dave Guard. In the early 1950s, he and fellow Hawaiian-born friend, Bob Shane, met Nick Reynolds, who like them was a college student in the San Francisco Bay Area. All three loved music, and with other friends, formed different on-again-off-again band configurations during the mid-1950s singing in small bars or for frat parties. Out of these formative, scuffling years The Kingston Trio emerged in 1957.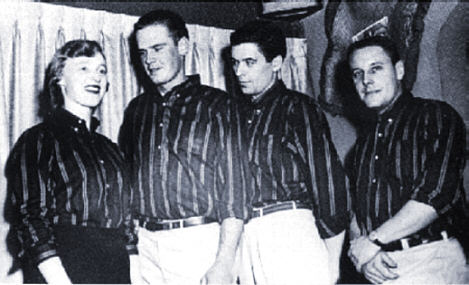 Dave Guard And The Calypsonians a.k.a. The Kingston Quartet
Barbara Bogue, Dave Guard, Joe Gannon, Nick Reynolds - 1957
By mid-1958, after much hard work and the fortunate radio airplay of "Tom Dooley" by a Salt Lake City disc-jockey, The Kingston Trio found themselves being one of the biggest things to happen on the music scene. They were ready! Success was not short-lived but continued with a string of gold singles and albums.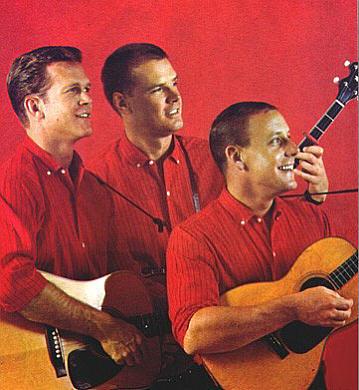 On top of it all! - Bob Shane, Dave Guard, Nick Reynolds - circa 1959
Throughout the early years, Dave Guard's sharp wit, excellent musicianship, and quirky but endearing vocal style helped contribute--along with Bob's and Nick's formidable talents--to the success of The Kingston Trio. In the summer of 1961 fans were shocked when learning of Dave's departure from The Kingston Trio. Fortunately, The Kingston Trio and Dave Guard both continued on successfully pursuing their separate endeavors.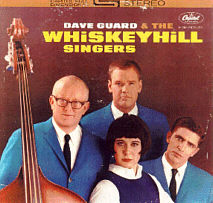 1962 - Dave Guard with David "Buck" Wheat, Judy Henske, Cyrus Faryar
Dave Guard formed Dave Guard & The Whiskeyhill Singers immediately after his departure from The Kingston Trio. They were only mildly successful and in late 1962, Dave and his family emigrated to Australia. During the next several years in Australia, Dave had a musical-variety television show called Dave's Place. In 1969, it was back to the United States where he pursued a writing career as an author of children's and music instruction books.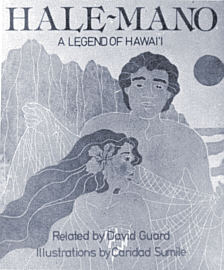 In the late 1970s, Dave rekindled his interest in recording. During this period, one of the highlights for Kingston Trio fans was the reunion of all configurations of The Kingston Trio at Six Flags Magic Mountain Park, in California, on November 7, 1981. This fine program was broadcast February 21, 1982 on PBS and is currently available on video.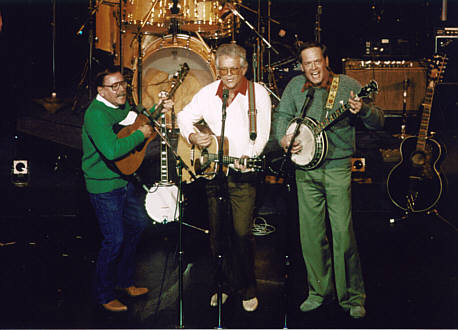 Twenty years after - The Kingston Trio And Friends Reunion - 1981
Nick Reynolds, Bob Shane, Dave Guard - courtesy of John August Lee
Over the next several years, Dave Guard put out a couple of eclectic but fine solo albums for Folk Era Records.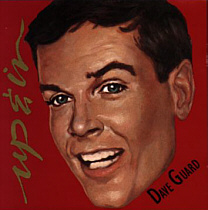 Dave Guard/Up & In, Folk Era Records 1988 - courtesy of Peter Overly
As time rolled into the 1990s, Kingston Trio fans--many of whom had lost track of Dave Guard over the years--were shocked when finding out, in 1991, and even several years later, about his death on March 22, 1991, from lymphoma in Portsmouth, New Hampshire.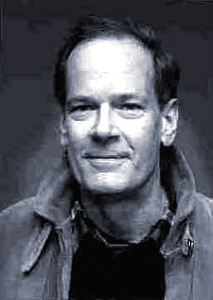 circa late 1990
As one of the founding members of The Kingston Trio, Dave Guard's music, personality, and life and times have made him legendary amongst Kingston Trio fans. Had Dave lived, he would have been 67 years of age on October 19, 2001. He may be gone but we will always enjoy his contributions to The Kingston Trio and his musical legacy for a long time to come.
Happy Birthday Dave!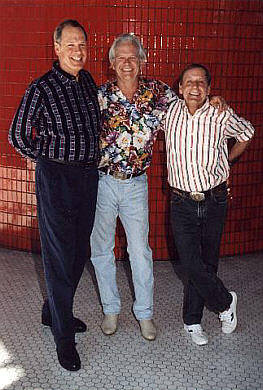 Will The Circle Be Unbroken? - Dave Guard, Bob Shane, Nick Reynolds - circa Summer 1990
A Dave Guard musical journey through time:
RUN JOE - Dave Guard And The Calypsonians - acetate demo - February 20, 1957. A dramatic example of Calypso influences on the nascent Kingston Trio.
THE ESCAPE OF OLD JOHN WEBB - The Kingston Trio - from String Along - 1960 - Capitol Records. Could this song be the ultimate demonstration of Dave Guard's musical taste and banjo artistry? Please note the wonderful harmonic resonances between Dave's Vega's Tu-Ba-Phone tone-ring, his banjo's strings, and Capitol Records's Studio B acoustics!
SPECKLED ROAN - The Kingston Trio - from Make Way! - 1961 - Capitol Records. With only Dave on vocals this time, this Kingston Trio musical tour-de-force has it all. This song's imagery, rhythmic drive, tasteful fills and trademark Kingston Trio "feel" will send chills up your spine!
THE BONNIE SHIP THE DIAMOND - from Dave Guard & The Whiskeyhill Singers - 1962 - Capitol Records. One of the best songs from this short-lived group.
THEY LOVE THE NIGHT - Dave Guard - from Up And In - 1988 - Folk Era Records. As an album, Up And In reflects Dave Guard's eclectic nature and continual search for something different. Here, Dave rocks-out in a cute song to those folks living on the fringes--including, perhaps, some of us too!
THE MARY ELLEN CARTER - Dave Guard - from Up And In - 1988 - Folk Era Records. For those of us who lost track of Dave Guard's whereabouts over the years, this song from Up And In is more in keeping with the musical direction we would have probably assumed him to take. This folky song rocks just enough to compliment the song's mood and story.
IMPORTANT! To hear RealAudio streams, you must have the RealPlayer software installed on your computer. If you do not have the RealPlayer software installed on your computer, click on the "Get RealPlayer Free" icon below to go to the RealMedia site to download the RealPlayer software program. I suggest saving the file to be downloaded to your Desktop for easy location and installation of the file once it is downloaded. Once installed, although RealPlayer instructions do not stipulate it, RESTART YOUR COMPUTER to be sure all RealPlayer components are loaded! Then, go back on the Internet to this site to listen to your song choices.