Pure Gabby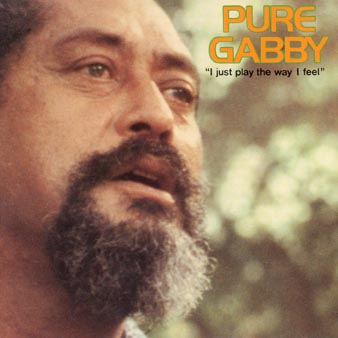 Hula Records, CDHS-567
Dave Guard's 1961 production (1978 release) of Hawaiian Slack-Key Guitarist,
Gabby Pahinui
A note from the producer on how this record came to be: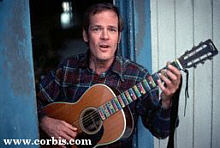 Dave Guard is my name; my music with the original Kingston Trio may be familiar to you. I was born in Honolulu, brought up in Waikiki, and the first record I ever bought was Hi'ilawe by Gabby Pahinui. When my folks gave me my earliest guitar I learned to play in the "G" slack key tuning first. I would hang around the Queen's Surf night club just to hear Gabby's trio (with Joe Diamond and Ralph Alapai.) I pestered Gabby for lessons and he showed me one of his "C" tunings, but he said "It's not how you tune' em up, it's how you pluck 'em." But only recently has Gabby considered himself a teacher: it's enough that he plays the sweetest, cleanest most soulful, most Hawaiian guitar music ever heard, It's enough that he has one of the finest voices in the world. It's enough that when I hear Gabby I'm home.
Some years went by and I continued to collect Pahinui records but was disappointed by not hearing enough of the man himself on them. They would bring his guitar forward for a short solo, then submerge him again in an ensemble of flutes, steel guitars, or whatever was commercially hot at the time. I resolved that if I ever had the money and Gabby were still playing, to try to make a "straight" recording of his guitar and singing with just a little bass and ukulele to ride along for company.
The opportunity came in early 1961. My trio was on its way to the Far East and I asked my parents, Jack and Marjorie, to contact Bob Lang, the excellent recording engineer who had worked with Gabby previously. Also helping from the Waimanalo side were old friends Mick Brownlee, the sculptor, and his wife Joan, who lived near the Pahinui family. Two great accompanists were invited: Sonny Nicholas on bass and Danny Stewart to play ukulele.
Bob Lang brought his VW bus down to Central Union Church with a three track Ampex remote recording unit and the taping was done in the meeting hall on the Punahou Street side. Each take had to be sandwiched between rings of the church bell, every fifteen minutes. The work was done in two sessions, January and March with Gabby performing to near perfection at all times in spite of not being in great demand at that point in his career. I'm sure he enjoyed the support of his charming wife Emily especially during this effort.
Joyfully the results were submitted to the major record companies on the mainland. Uniformly the answer came back that there was no market for a record of this kind. So for seventeen years the only people to hear these tapes were my family and friends, until recently I was encouraged by my fellow musicians Cyrus Faryar and Douglas "Chip" Hatlelid (two local boys from the Modern Folk Quartet) to try once more to strike a clear note for the pride of the islands.
I came back home to Honolulu and called Don and Flip McDiarmid at Hula Records Inc., and they said Yes, we'll take it right now. I also mentioned that I had interviewed Gabby at his house using a portable tape recorder during the time of these sessions so it was decided to include this spoken material to make a truly archival presentation. Mahalo to all those above and especially to my wife Gretchen
Guard. Gabby, we hope you like it.
GABBY HIMSELF speaks of many things important to his life and his music ... which are very nearly synonymous ... on the second record of this collection. Anyone can look up statistics he skips: his birthday, April 22, 1921; that he married Emily when he was 17; that several of their 13 children are professional musicians; that there are more grandchildren. Including everything, it could take him as long to tell his life as to live it.
But though he talks about who taught him, how he learned ... he cannot say why his fascination with slack-key was so deeply rooted that he dedicated uncounted hours, ten years' time, to learn to play in the style that captures everyone who hears him.
It's been more than 30 years since he made his first single, and a name known to all lovers of Hawaiian music. 17 years since Dave Guard made these tapes. 16 years since the milestone album GABBY, in 1962, his first with the original Sons of Hawaii, followed by its sequel MUSIC OF OLD HAWAII in 1964 ... both on the Hula Records label too, and still going strong. At the time of their release, however, these classics were called modern music.
But these days, a musician who plays principally for the love of music must find other means of taking care of a large family, and for years Gabby did demanding physical labor; road work for the City and County of Honolulu. This year of 1978 he has been transferred to the Department of Parks and Recreations's Hawaiian Center to teach, Hawaiian style, talented younge rpeople who love slack-key so much that they are not only willing, but impelled, to work as long and hard as necessary.
Gabby only preaches what he practiced: pick a man whose music you admire. If he let you, then look, listen, follow, accept, no ask questions. No. Ask. Questions. Go home. Work. Try figure out how to make the sound come the same. Love the work. And every time come back to the man, show him what you can do so far, in case he think maybe you worth the trouble, he can help you, show you more. Then by and by you maybe learn slack- key.
Gabby doesn't mention talent. Who knows what that is? We know only that Gabby has the magic combination. Inborn ability is only the beginning. It is equally necessary to want to, to work to, develop that ability to the fullest ... and to have something to say that is worth hearing. As this courteous, gentle, loving, fun-loving gentleman of Hawaii does.
Because feeling is such an overwhelming quality of Gabby's music, his impressive skills seem natural, rather than earned; and what is inborn tends to be taken for granted: his perfect sense of pitch and tempo, and the quality of his voice ... the joyous, nostalgic, rascally, moving, truly Hawaiian quality of his voice. It is through these qualities, and these skills, that the special spirit of the man can speak ... as it does so clearly, to us all.
SLACK-KEY: what is it? Gabby says it's hard to explain, but if it sounds like slack-key, it probably is. And that is about as good a definition as any. As a folk art, it is relatively recent ... 150 years old if that ... and unmistakeably Hawaiian. It's a style of guitar music (though a few play slack-key on ukulele, even auto-harp) shaped by the tuning, the plucking, Hawaiian music ... and something more. And as a folk-art, it is not taught by formal methods, but is learned by example, by doing. As Queen Lili'uokalani wrote in 1898: "With other nations, music is perpetuated by note and line. With us it is not."
Guitars may have come with the whalers first, in the wake of the explorers ... nobody knows for sure ... but when whalers went ashore their main interest was not in playing music. More likely the vaqueros from California (then part of Spain's possession Mexico) carried guitars in their gear. They arrived in the 1830's at the invitation of Kamehameha III, and stayed some months on the big island, to teach Hawaiians how to work cattle. The small herd Vancouver presented to Kamehameha 140 years earlier had been protected, and had increased to the nuisance point.
Besides learning to be cowboys, the Hawaiians learned to fancy the sound of the guitar, decades before its little Portuguese cousin, renamed ukulele, made an appearance here.
But the Hawaiians didn't learn, or choose to use, any of the Spanish tunings. They invented their own. By comparison with so-called standard tunings, certain strings are loosened, slacked, to lower their pitch. From this the name ki ho'alu ... literally, slack-key. Tunings where strings are tightened to raise the pitch may be more modern.
In slack-key tunings, the six open strings make a major chord. How many tunings are in use? Guesses range from a mere dozen, to hundreds ... some widely known, some personal to a particular player or family. But to be successful, a tuning must be easy to finger, and strings must not be so loose as to lose the rich bass ring so typical of the art, nor tightened to the breaking point. (Too, some peoplecan play slack-key style using a standard tuning.)
Fingering involves plucking ... one string at a time ... no chords. The right thumb sounds each of the three lowest strings; the forefinger, the 3rd string only; the middle finger, the 2nd string only; the ring finger, the top string only; and the little finger is use only to "bell". The arm and hand hardly move, only the fingers are busy.
Fingers of the left hand stop one string at a time. Advance and delayed stopping ("slurs"), stopped and open strings, are used in sequence to create the sound pattern. At first used purely as accompaniment for the voice, slack-key also came to be enjoyed as a solo sound.
Barring with the left hand, or stopping two or more strings at a time ... strumming or chords, striking or pressing the strings with the right hand ... are techniques foreign to real slack-key. Mixing these techniques with true slack-key produces only a partly slack-key flavored effect.
Different tunings create different harmonics, different ways of sounding the strings create different effects too ... resulting in a wide variety of personal styles. A slack-key buff, musician or not, can usually identify the player by the "hand" ... or who the player has taken as a model. But however tunings and fingering vary, and despite many seeming contradictions, what we call slack-key has a distinctive character, immediately recognizable, that sets it apart from all other styles.
Still, all this cannot explain what is the magic in the heart of the sound that so draws us to it, and into it, and carries us away. But when you hear it, there is no need for explanation. You know.
THIS ALBUM could also be called (if the titles weren't so trite) "The Best of Gabby" or "Gabby's Greatest Hits". At least they're his most familiar ones. They are all folk songs, even if the names of most of the composers are known. This is the only kind of music Gabby wants to know ... Hawaiian music. He says that anyone else who wants to hear anything else can go somewhere else and listen to someone else.
Folk songs happen for a reason ... other than the hope of making money, or an ego trip. There are Hawaiian songs that say "I love you" and "get lost" ... "you talk too much" ... "watch your step in a foreign country" ... "keep your hands off my husband you old bag" ... anything and everything. There are songs that purely celebrate the beauty of the land and the people. Mostly the personal messages are indirect and discrete ... though there are glaring exceptions. With the passage of time, or to suit the purpose of the performer, the messages may be altered or edited, with the result that one song may have many
versions.
Now Hawaiian-speaking people set great store by the word: words can bind, words can set free, as the old, old saying goes. In them is life, in them is loss ... beauty, fun, everything. But Gabby tends to bend the lyrics as he goes along; to him the spirit, not the letter, is the main thing. He hears a message beyond the words. Gabby can get away with doing this; no one else can. Others, not being Gabby, are better off to sing words in the traditional way.
As one of our ... and his ... Hawaiian-speaking elders put it, "He sings slack-key too. Well, that's Gabby. We enjoy him just the same."
Hear selections from Pure Gabby below!
GABBY'S TUNINGS ... the four of them he uses on this LP ... as noted down by Dave Guard.
Songs ---------------------------------------------------------------------------------------------------------------------------------------------------------------------Strings and their tunings
6
5
4
3
2
1
Hi'ilawae - Nanea Ko Maka
C
G
E
G
B
E
Ki Ho'alo - I Ka Po Me Ke Ao
C
G
E
G
A
E
Lihu'e - Slack-Key Hula - Lei Nani - Mauna Loa - Wai o Ke Aniani - 'Ahulili
D
G
D
G
B
D
Slack-Key Medley - Isa Lei/Aloha 'Oe
F
C
E
G
C
E
NOTE FROM DAVE: "Sometimes all strings are a half tone sharp, but it looks neater to stay with the white keys on the piano."
| | |
| --- | --- |
| SIDE ONE | SIDE TWO |
| 1. HI'ILAWE (3:59) | 1. WAI HU'IHU'1 0 KE ANIANI (2:34) |
| 2. KI HO' ALU (2:47) | 2. SLACK-KEY HULA (2:35) |
| 3. NANEA KO MAKA I KA LE'ALE'A (2:25) | 3. MAUNA LOA (4:59) |
| 4. L1HU'E (3:48) Annie Koulukou | 4. 'AHULILI (2:49) |
| 5. LEI NANI (3:24) Charles Namahoe | 5. I KA PO ME KE AO (2:44) |
| 6. SLACK-KEY MEDLEY (2:35) | 6. FAREWELL MEDLEY (4:50) |
.
Listen to Gabby Pahinui play selections from Pure Gabby
SIDE ONE
6. SLACK-KEY MEDLEY (2:35) Instrumental mp3
On May 4, 1980, Gabby Pahinui won the Hawaiian music industry's coveted Na Hoku Hanohano Award for his "Slack Key Medley" off of his "Pure Gabby" album.
| | |
| --- | --- |
| Nani Wale t-Ihiu'e | Prince Leleiohoku & Kamakau |
| Silver Threads Among the Gold | Eben E. Rex & Hart P. Dankas |
| Wai'alae | Mekia Kealakai |
The prince's poetic memory of a lovely vision, the Major's lilting waltz in praise of a famous party house, a sentimental Victorian favorite all blend beautifully at Gabby's hands.
SIDE TWO
3. MAUNA LOA (4:59) mp3 - Helen Parker
The same composer who gave us the hauntingly beautiful "Akaka Falls" is responsible for this naughty hula. If you want to know how naughty, please refer to Mercutio's speech in Shakespeare's "Romeo and Juliet" in which he, too, mentions a handkerchief. The title refers to the ship that the man in the story sailed on ... to return, if he dared, to Ka'awaloa (today more commonly called Captain Cook).

Hawaiian to English Translation Of Mauna Loa
1. 'Auhea wale 'oe 'o Mauna Loa la Ki-kala nui
Ho'iho'i mai 'oe i ku'u aloha la
E i Ka' awaloa nei.

Listen, 0 Mauna Loa
(of the) Broad beam
You bring back my love
To Ka'awaloa here.
2. Ua hiki no 'oe a'e hele ana la
Me ka ipo manuwahi
A na'u no is 'oni ho'okahi la
E i kahi pela a'o kaua.

Until you can come
With my lover
I have to shift for myself
On our mattress.


3. Ko hinaka popopo la
'Ai 'ia e ka 'etelu
A na'u no is e kawele nei la
E i ko kama'a miomio.
Your handkerchief is rotten
Roach-eaten
I used it to wipe
Your departing shoes
4. Ha'ina 'ia mai ana ka puana to
Ku 'oe hele pela
A na'u no is 'oni ho'okahi la
E i kahi pela a'o kaua.

Tell the theme:
Get up and get out
I have to shift for myself
On our mattress.

Many thanks to Paul Gajdos for providing the album and liner notes of Pure Gabby
Letter From Dave
In response to a letter to Dave Guard, folk-music musician, Peter Curry, received the following reply from the legendary founding member of The Kingston Trio who mentions Pure Gabby to Peter.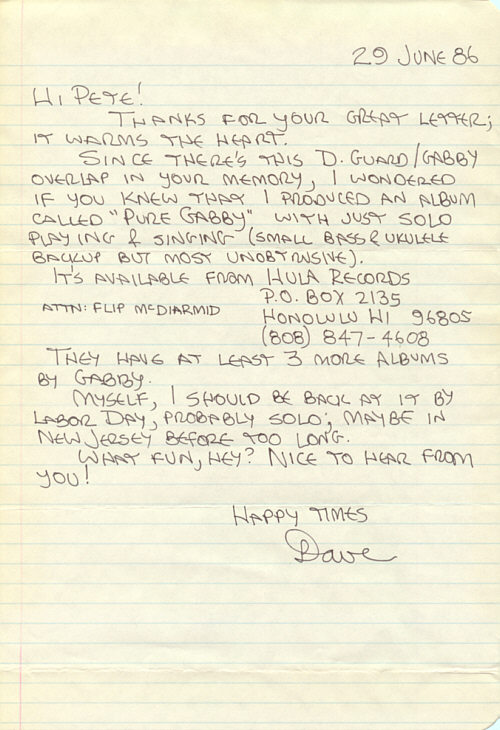 Dave Guard's letter to Peter Curry, June 29, 1986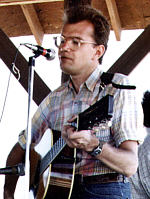 Many thanks to PETER CURRY for sharing his prized memento with us.
Peter is a folk musician and author of the authoritative music instruction book, Pure Dave, an in-depth
guide into the banjo techniques used by Dave Guard with the original Kingston Trio.