"THE KINGSTON TRIO: BEST OF THE DECCA YEARS" RELEASED BY MCA ON JUNE 2, 1998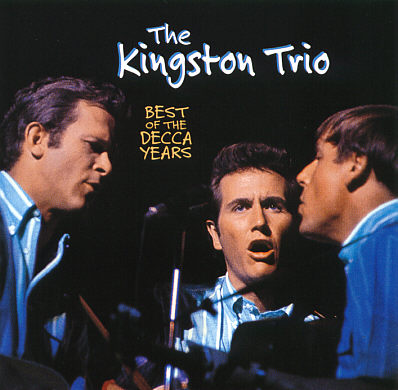 "The Kingston Trio: Best Of The Decca Years" - front cover
Entered by Todd Everett in our Comment & Guestbook Wednesday, May 27, 1998:
On Tuesday, June 2, MCA Records will finally issue "The Kingston Trio -- Best of the Decca Years" (MCAD 11771). The sixteen tracks are gathered from their four Decca albums, released between 1964-'66, plus the acoustic version of "Long Time Blues," first issued by Folk Era on their 1991 reissue of "The Kingston Trio: Nick-Bob-John."
I'm sending this message out to many people who have helped, or shown interest in, this project, so please forgive the lack of personalization. For those coming in late, I'm a freelance who produced the album for the record label. OK, so it's self-serving, but as Trio fans, you might want to know about this.
Many of you responded to my request for suggestions about what to include. The final selection is (in order of appearance): "Stay Awhile," "Long Time Blues," "Love's Been Good to Me," "Poverty Hill," "My Ramblin' Boy," "Three Song," "I Can't Help but Wonder Where I'm Bound," "Rusting in the Rain," "They Are Gone," "Lei Pakalana," "Children of the Morning," "Hit and Run," "Less of Me," "Lock All the Windows," "Gonna Go Down the River" and -- the track everybody agrees on -- "I'm Going Home."
The liner notes tell the history of the Trio's stint at Decca, following their major success at Capitol, with quotes from Nick, Bob, John, long-time manager Frank Werber, and songwriters Rod McKuen, Fred Hellerman, Mason Williams and Tom Paxton. All of the interviews were done specifically for this project, so you can say that The Trio were involved, though shouldn't be blamed for anything you don't like!
The tracks were remastered from the best-quality 2-track tapes we could find--no remixing, here, though you'll probably find this the best sounding Decca-era Trio album yet. (For those of you who like the extra echo Folk Era added in an effort to recreate the Capitol sound, check with them immediately; their license to issue the material is expiring and their reissues may not be available much longer).
As it's in MCA's mid-price line (released in the U.S. only), it won't cost you nearly as much as it's worth. If your local record store isn't carrying it (phooey on them!), try http:/:www.cdnow.com; http://www.musicblvd.com; http://www.towerrecords.com; or your other favorite on-line service. I would hope that Collectors Choice (http://www.ccmusic.com) and Folk Era (http://www.folkera.com) will be carrying them as well (it's listed on the Collectors Choice website, though not their newest catalog); in any case, you should be aware that the companies exist, if you don't already.
And while you're shopping online or in the stores, you might be interested in "Return to Hicksville," the Dan Hicks and his Hot Licks anthology I put together last year for MCA's Hip-O label. The Hot Licks are acoustic, with a hard swing sound and terrific lyrics. It's not The Trio, but Trio fans might enjoy it. Again, the mail-order companies are remiss, but the on-line folk or your local store should be able to get it for you.
If this Trio package does well, there's the chance of an additional MCA release; either more of the already-released stuff (sort of a "Sing the Folk Standards" set, including some of the electrified material) or -- a remote possibility -- the Tetragrammatron "live" album, which as many of you know was originally recorded for Decca, who declined to release it at the time (phooey on them).
Two more sites I'd like to commend to Trio fans are The Folk Music Home Page, http://www.jg.org/folk/ and http://worldmusic.miningco.co -- lots of nifty links and international stuff that's hard to find elsewhere. And for Hawaiian music (where I found the Richard Kahui album with the original version of "Lei Pakalana" on it), try http://www.mele.com
I appreciate your attention and assistance; if you have any comments, please feel free to pass 'em on.
Thanks,
---
Review of "THE KINGSTON TRIO: BEST OF THE DECCA YEARS"
It was all there: Bob's baritone front and center, Nick's high harmony off to the left, and John's banjo driving out a "let's kick it down" rhythm on the right (Nick's and John's positions "seem" reversed from their live, in-concert positions). I was listening to "Stay Awhile" and other Kingston Trio classics but not quite like I'd heard them before. Gone was the "thin" sound of the Decca recordings of these songs we'd all heard before. Here was an in-your-face, full--but clear--sound that Todd and the MCA sound engineers are to be applauded for. Not like some reengineered reissues of various artists' albums brought out over the years, this one doesn't suffer from a glossy "world-music style" sound enhancement but is faithful to the essence and integrity of the Kingston Trio sound we all know. Surely, a recording you'll love to hear, whether on your near-field computer speakers, or on your multi-thousand dollar sound system.
Todd solicited input from Kingston Trio fans everywhere in compiling a list of songs to include on this project. To be sure, with sixteen tunes, you'll find many of your Decca-years favorites included here. The album is well-paced and doesn't dwell excessively on any one mood but mixes things up for an interesting program.
Included on the CD insert are a few never-published photos of Nick, Bob and John along with some interesting notes gathered by Todd that include insights from the Trio and other performers of the era. "The Kingston Trio: Best Of The Decca Years" is a worthwhile and attractive package of sound and information.
Kenniford Laing - June 6, 1998
"THE KINGSTON TRIO: BEST OF THE DECCA YEARS"
| | |
| --- | --- |
| 1. Stay Awhile | 09. They Are Gone |
| 2. Long Time Blues | 10. Lei Pakalana |
| 3. Love's Been Good To Me | 11. Children Of The Morning |
| 4. Poverty Hill | 12. Hit And Run |
| 5. My Ramblin' Boy | 13. Less Of Me |
| 6. Three Song | 14. Lock All The Windows |
| 7. Can't Help But Wonder Where I'm Bound | 15. Gonna Go Down The River |
| 8. Rusting In The Rain | 16. I'm Going Home |