The Kingston Trio Place
Presents an article from
Show Business Illustrated
September 5, 1961
"I'm
A-Goin'
Away,
I'm
A-Goin'
to Stay..."
Tenderfoot Tenor for the Kingston Trio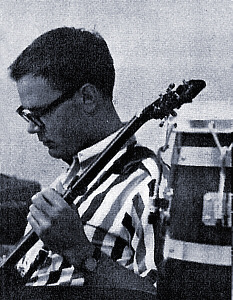 ALONE: Dave Guard is odd musician out.
Oh, l'm goin' away, I'm goin' to
stay,
Never coming home. Gonna miss you, honey, in the days
to come
When the winter winds begin to
blow . . .
And when you think of the way
You're gonna wish me back, your
loving man.*

This verse is taken from You're Gonna Miss Me, the kick-off tune in the Kingston Trio album, Goin' Places. Ironically, four months after being recorded, it developed that the words were up to a point prophetic. For one of the Kingstons has done parted with his two striped-shirted buddies.
Lanky Dave Guard, the crewcut personality boy and "acknowledged leader," has split, leaving in the dustbin 30,000 Kingston Trio souvenir programs (one dollar per copy), worthless because his toothy grin is on both covers.
But hold on a minute. No need to pack away your Ivy-styled, genuine Kingston Trio walking shorts ($6.50). There is a new Kingstonian, a 22-year-old émigré from the Cumberland Three, one of the myriad pseudo-folk groups that tried to emulate the phenomenal Kingston success. He is John Stewart, an erstwhile baritone currently undergoing a range change that will enhance his upper register and justify his new role as the Trio's tenderfoot tenor.
"He's extremely proficient on banjo," says Kingston manager Frank Werber, "much more so than Guard. He has a nicer, mellower voice than Dave's. He's tall, young and good-looking. We retained the image but brought in a fresh, new personality."
It took months of lawyers' conferences and talent auditions, along with a whopping $300,000 from the treasury of Kingston Trio, Inc., to get rid of the old personality who inconveniently owned 24˝ percent of the corporation.
The Kingston Trio is big business. Since June 1958, when its first LP went on sale, Trio recordings have grossed in excess of $25,000,000 accounting for nearly fifteen percent of bustling Capitol Records' total business. The Trio's annual earnings exceed $1,200,000. They received $200,000 to plug Seven-Up on radio and TV commercials. A Kingston Trio line of men's clothing grossed another $500,000 in six months. Floating on this golden flood, the bubble of brotherhood burst. Outwardly, everything was tuneful togetherness. Inwardly, the trio seethed. Guard, handsome Bob Shane, and puckish Nick Reynolds "never really talked to each other much," according to Werber. "Dave always had the unfortunate quality of belittling everyone. He felt no one knew as much as he did."
Says Guard, "I wasn't convinced my associates were doing the best they could."
Friction increased early this year when Shane and Reynolds failed to show up in Tahiti, where the Trio hoped to pose for fashion films. Earlier, Guard, a Republican, had vetoed an invitation to sing at the Inaugural Ball. He had previously turned down a lucrative offer to record The Green Leaves of Summer, title song for the film The Alamo, and ultimately a million-seller. Then there was a little bookkeeping matter that irritated all of them. The manager of their own music publishing company absconded with $127,000 in royalty money.
Guard finally turned in his banjo pick a few weeks ago and was replaced by Stewart, a reformed rock 'n' roller who used to peddle songs to the Trio.
The big question now is just how much the two Kingstons will miss the third, especially when the wind begins whipping along the arduous campus concert trail. On his own, musicologist Guard has been woodshedding, trying to regain his musical roots through research. "How would you like to be 25 and at the top of your profession with no place to go?" he asks. "Any entertainer who has been making it under good looks or youthful vivacity would do well to learn the tricks of the trade against the time when the looks fade."
______________________________________
* Copyright Granada Music, 1961. Used by permission.
ADDITION - Banjoist John Stewart bawls out a lyric with Nick Reynolds (center) and Bob Shane in rehearsal session in San Francisco.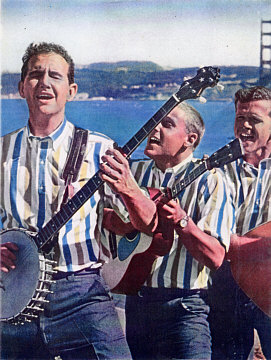 Many thanks to Glen Lees for sharing this interesting article with us!