... 42Years Ago -
NOVEMBER 22, 1963 ...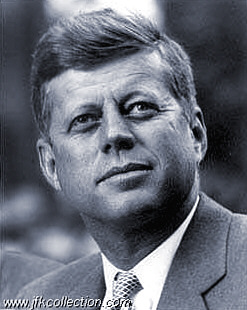 May 29, 1917 - November 22, 1963
35th President Of The United States Of America
"... look then to the hills when there's courage in the wind ..."
"Song For A Friend" - The Kingston Trio
The spirit and soaring harmonies of The Kingston Trio's performances mirrored and helped form, better than any other musical group, the youthful and energetic, can-do attitude of America in the thousand days of John Fitzgerald Kennedy's presidency.
JOHN F. KENNEDY'S INAUGURAL ADDRESS
IMPORTANT! To hear RealAudio streams, you must have a multimedia-equipped computer with the RealPlayer software installed on it. If you do not have the RealPlayer software installed on your computer, click on the "Get RealPlayer Free" icon below to go to the RealMedia site to download the RealPlayer software program. I suggest saving the file to be downloaded to your Desktop for easy location and installation of the file once it is downloaded. Once installed, although RealPlayer instructions do not stipulate it, RESTART YOUR COMPUTER to be sure all RealPlayer components are loaded! Then, go back on the Internet to this site to listen to your song choices.