THE NEW KINGSTON TRIO
(The 1970 Tokyo, Japan recordings for Birdree Record)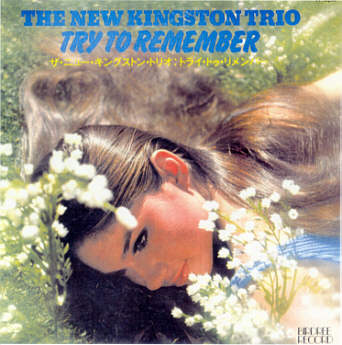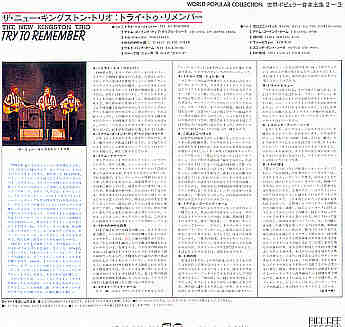 In 1970, The New Kingston Trio, composed of Bob Shane, Jim Connor and Pat Horine, made a stop in Tokyo, Japan where they made their first recordings as a group for a small Japanese record company called Birdree Record. 14 known tracks were recorded during these sessions. Four of these tracks, "Tom Dooley", "500 Miles", "Blowin' In The Wind", and "Turkey In The Straw", were released in 1971 on a Japanese (various artists) compilation LP entitled "Music Rainbow 4" (MRS3004) that was made and sold only in Japan by the Japanese mail order company, Senshukai. In 1972, Birdree Record, in conjunction with the same Japanese mail order company, Senshukai, offered for sale, only in Japan, a 4-volume collection entitled the "World Popular Collection" (see Birdree Record ad). Each of the four volumes contained three LPs (in jackets) in a solid box and included a colored booklet, which contained one black & white page denoting the guitar chords for 5 or 6 of the songs in that volume. All of these records were pressed on black vinyl by the Nippon Columbia Company, Ltd. of Japan. Each of the four volumes was sold separately for 3600 yen (roughly $30, 25 years ago). Sales were not spectacular, and only several hundred copies were sold.
The 3rd LP in the 2nd Volume of the World Popular Collection was "Try To Remember" (Birdree Record PLS-107) by the New Kingston Trio (see the colored photocopies of the front and back jacket cover of this Stereo 33 LP). The 12-tracks that were released on this LP are as follows:
Listen to Try To Remember (m3u streams and mp3 downloads)
Many thanks to "Bakersfield" Dan Hartline for sharing his rare copy of this LP with us!
SIDE 1
SIDE 2
When the "definitive" discography of Kingston and New Kingston Trio recordings was published in the book, "The Kingston Trio On Record" (Kingston Korner Inc. - June 1986) very little was known about this LP. Only a "bootlegged" copy of the mockup jacket cover was known of at that time (sold by the Trio's bass player, Stan Kaess, to George J. Karras of Denver, Colorado). The LP was (incorrectly) thought to be entitled "The New Kingston Trio" (Birdree PLS-107) rather than the actual LP title "Try To Remember", the title under which the LP (and final jacket) was actually marketed in Japan by Birdree and Senshukai in 1972. Only a few of the final version of the LP are known to exist in the U. S.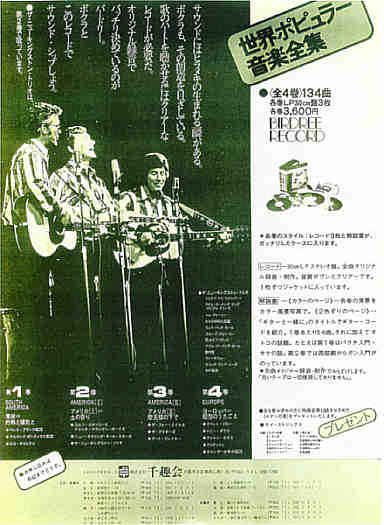 Information provided by:
Hiroshi Kurihara of Amagasaki, Japan and Jim Murray of San Gabriel, California
Color photocopies of the "Try To Remember" LP jacket were provided by:
Phillip D. Horner of Amherst, Virginia
The color photocopy of the Birdree Record World Popular Collection sales ad was provided by:
Hiroshi Kurihara of Amagasaki, Japan
November 1997
Special thanks to Bernie Weinstein for coordination of material