THE NEW KINGSTON TRIO
THE DINAH SHORE SHOW
OCTOBER 15, 1974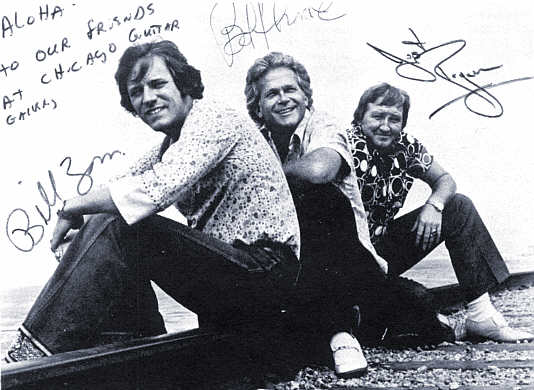 The New Kingston Trio - Bill Zorn, Bob Shane, Roger Gambill - 1974
Forming the second "The New Kingston Trio" in late 1973, Bob Shane used his many contacts from his Kingston Trio days to fill-out a busy performance schedule. One of the gigs Bob managed to get was an appearance on October 15, 1974, on the popular The Dinah Shore Show. After opening their spot with the rousing "Hard Travelin'," Bob, Roger Gambill and Bill Zorn introduced their second number, "Little White Cloud In A Lonesome Summer Sky."
Thanks to Bernie Weinstein, we have this rare, recorded-direct-from-television performance!
RealAudio stream

LITTLE WHITE CLOUD IN A LONESOME SUMMER SKY
IMPORTANT! To hear RealAudio streams, you must have a multimedia-equipped computer with the RealPlayer software installed on it. If you do not have the RealPlayer software installed on your computer, click on the "Get RealPlayer Free" icon below to go to the RealMedia site to download the RealPlayer software program. I suggest saving the file to be downloaded to your Desktop for easy location and installation of the file once it is downloaded. Once installed, although RealPlayer instructions do not stipulate it, RESTART YOUR COMPUTER to be sure all RealPlayer components are loaded! Then, go back on the Internet to this site to listen to your song choices.