The Kingston Trio Place
Presents
The Kingston Trio on
PM East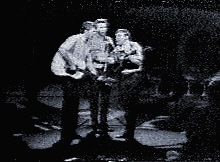 The Kingston Trio with John Stewart on TV c. early 1960s
(photo not from PM East)
Around the beginning of 1962, following Dave Guard's exit from the group several months before, The Kingston Trio appeared with new member, John Stewart, on PM East, a New York-based, late-night television show on Channel 5.
Bob, Nick and John appeared for the whole hour and did several songs and fielded--with good-hearted aplomb!--many questions from hosts Mike Wallace and Joyce Jillson. Included are brief interviews with David "Buck" Wheat, the Kingston Trio's bass player and Frank Werber, their long-time manager.
The show is broadcast in its entirety minus the commercials (51 minutes) and serves to highlight many of the qualities that put The Kingston Trio on top of the record charts for many years and continue to make them a joy to see in concert!
Many thanks to Don Marcus for making the audio portion of this show available to us all!