One Of The Band...A Fan's Magic Night!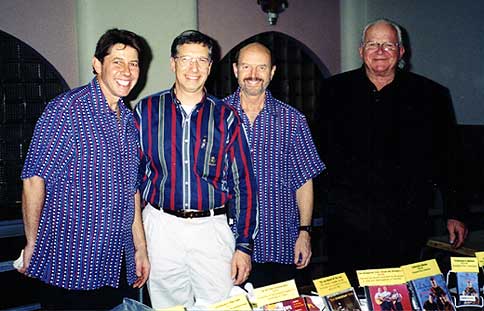 Bob Haworth, Rob Reider, George Grove, Bob Shane
After the show, Findlay, Ohio, January 10, 2003
Rob Reider, like most musicians, always dreamt of playing onstage with his favorite band. On Friday, January 10, 2003, in Findlay, Ohio, his dream came true! Let's let Rob relate to us his account of that magical evening:
From my youngest days I remember music being a part of things. My Mom sang in New York City in the late 30s, performing with people like Danny Kaye and dating people like Robert Stack (yes, we've got pictures). There were guitars and baritone ukes everywhere and at age eight I got my first uke. That was 1956. I learned Ricky Nelson songs; then came the Kingston Trio. Nothing else mattered. I bought what few records I could afford and spent Saturday mornings at a music store in Columbus, Ohio gawking at Martin® guitars. My parents got me a 000-18 for Christmas 1964. Music was my passion and life. In 1970, while in college, I got a job on a television show in Cincinnati, The Bob Braun Show, and spent thirteen wonderful years there as a singer/guitarist/entertainer, winning five regional Emmy Awards, and meeting people like Bob Hope, Lucille Ball, and, of course, The Kingston Trio. I also had a sound company and did sound for the Trio twice in the early 80s when Roger was with the group. Bob was gracious to me and gave me an Izod® LaCoste® T-Shirt…upon closer inspection the logo was actually two alligators "belly-to-belly," getting it on!
I lost track of the group after that and got reconnected through a friend at the church where I work. I missed seeing the Trio twice in the last two years, once when they performed at a festival literally three minutes from my home. I was determined not to miss them again if they were within driving distance.
January 10th was my night to see the Trio again. I e-mailed Bob, asking if he'd play my D-45 onstage…Steven Stills, Randy Scruggs, and Jim Seals (Seals & Crofts) had all played it on the TV show I was on…I wrote Bob that it would be better than all those guys if he'd play it. On the 7th, Bob called me on the phone saying he'd be glad to and to meet him at the theater.
When they got there, I was waiting. We spoke, the guys looked at the D-45, and Bob said he'd play it the second half.
Bobby Haworth's January 11, 2003, narrative from The Kingston Trio Place Kingston Crossroads message board follows:
"…But the capper was, Paul Gabrielson missed his plane and consequently did not arrive in Ohio in time for the show. As we were sitting back stage perusing Rob's guitars we asked him casually if he played bass. He said "yes" so we asked the promoter if he could round up a bass guitar. This was twenty minutes before show time. The bass arrived about eighteen minutes later and Rob tuned it up, I gave him a few charts (he didn't really need 'em) and he played the show with us."
It was quite a thrill. So much came back – I had spent many hours as a teenager learning the songs, mistakes and all, so it was pretty natural. What a memory!
Rob Reider plays electric bass for The Kingston Trio, Findlay, Ohio, January 10, 2003: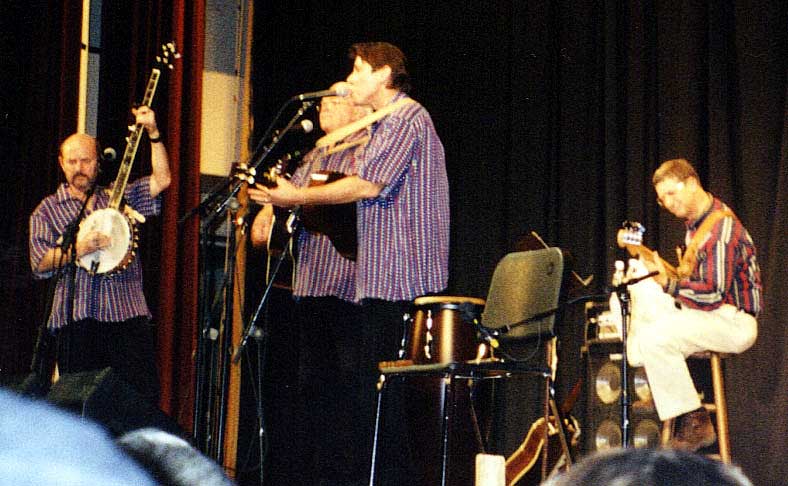 In the groove!
Rob, seated, playing electric bass, anchors the bottom-end as The Kingston Trio drive the tune home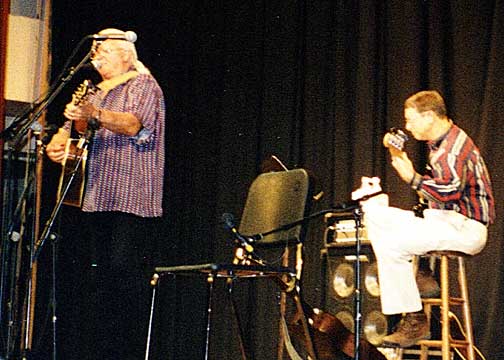 Rob backs the inimitable Bob Shane on his signature song, "Scotch And Soda"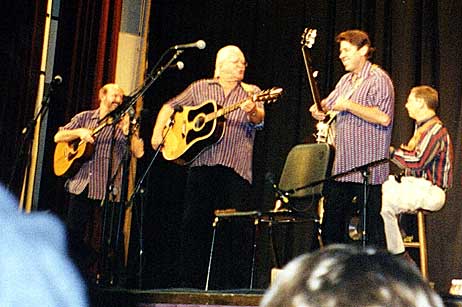 Sharing a light moment!
Bob Shane holds the new Martin D28KTBS (Kingston Trio Bob Shane) Model "batwing" guitar
Many thanks to Rob Reider for sharing his account and photos of his magic evening with us! Photos by Tom Klostermeier.