THE KINGSTON TRIO
HALE AUDITORIUM
ROBERTS WESLEYAN COLLEGE
ROCHESTER, NEW YORK, SEPTEMBER 19, 1998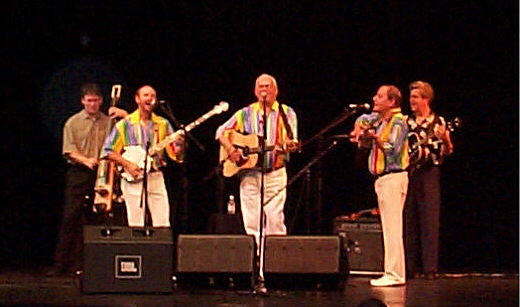 Tom Dooley
My wife Lina and I entered The Hale Auditorium at Roberts Wesleyan College last night, and with about a thousand other Kingston Trio fans, would fill the room to its capacity before Bob, Nick and George took the stage. Out they came, in their brilliantly-colored striped shirts, Bob and Nick carrying their Martin Kingston Trio 40th Anniversary Limited Edition D-28 and 0-18T guitars, respectively, and George, his Martin D-45 and trusty BanjoSaurus. Once at the mics, they hammered out their traditional opening number, the driving "Hard Ain't It Hard." The crowd gave the boys, accompanied on bass by Paul Gabrielson and electric-tenor guitar and viola by Ben Schubert, a hearty Rochester, New York welcome. The well-paced show kept its energy pretty much throughout as the Trio did many of their better known hit songs and a few lesser known ones. The playing was fine and the vocals excellent in spite of George intimating, later on, that after a month off from touring, it felt "a little funny" being back on stage after their layoff. The guys' jokes, including a few new ones, were well-taken by the crowd. Even the familiar "man goes into a bar"-style jokes are still funny after many times because of The Kingston Trio's excellent on-stage delivery and always seemingly-fresh cavorting.
The only noticeable problem in the show occurred during the first two songs. It sounded as if the soundman forgot to turn on the main stage speakers and we heard only the muffled sound of the monitors. The sound problem was taken care of although I never felt comfortable with the instrument level and tone--a bit thin--at my Row K Center location which should have been a good acoustic spot in this auditorium.
| | |
| --- | --- |
| Each member took a turn at a solo performance. George, eight songs into the show sang "One Sweet Reason" accompanying himself on his fingerpicked Martin D-45. This song is off George's new album: In The Middle Of A Life. Four songs later, Nick sang the simply beautiful "Hobo's Lullaby," which he preluded with his touching, and at times, humorous anecdotes of bringing up his children on the family's Oregon ranch. Three songs later, it was Bob's turn and he didn't disappoint us, singing the always popular "Scotch And Soda" with his inimitable delivery. | Scotch And Soda, mud in your eye .... Bob Shane (c), Paul Gabrielson (l), Ben Shubert (r) |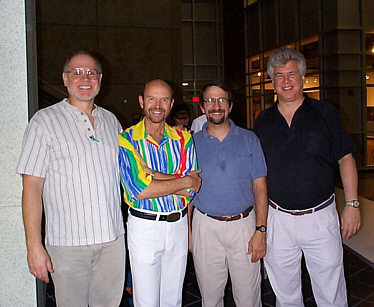 Ken Laing, George Grove, Russ Scinta, Rick Valente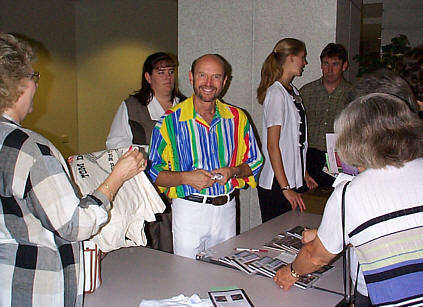 George holding forth at the autograph/souvenir table
Lina, Ken, George, Russ
This evening reaffirmed my belief that the Kingston Trio and their fans have created and will continue to create a kind of magic that starts with but transcends the music!
PLAYLIST
| | |
| --- | --- |
| 01. Hard Ain't It Hard | 10. Reuben James |
| 02. Three Jolly Coachmen | 11. Jamaica Farewell |
| 03. Early Morning Rain | 12. Hobo's Lullaby |
| 04. Greenback Dollar | 13. Lookin' For The Sunshine |
| 05. Merry Minuet | 14. Tom Dooley |
| 06. Ah, Woe, Ah, Me | 15. Scotch And Soda |
| 07. M.T.A. | 16. Worried Man |
| 08. One Sweet Reason | 17. Where Have All The Flowers Gone |
| 09. Ann | 18. I'm Going Home (California) |