Roy J. Harris Jr.
Los Angeles
It was easy enough for Dave Guard, Nick Reynolds and Bob Shane to conquer the musical world in the late 1950s. The young members of the new West Coast group called the Kingston Trio simply blended talent and enthusiasm, to give a pleasantly contagious quality to some folk songs.
Kingston Trio songs were the perfect accompaniment for the times: Sputnik and the space race created the need for a traditional, but still good-humored style of music to rally the maturing post-war baby boom Americans, without alienating their parents. Before long a youthful President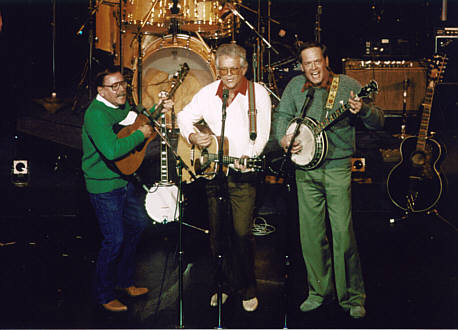 The Kingston Trio (From Left: Nick Reynolds, Bob Shane, Dave Guard).
added his own poetic description of the era, when he talked about passing the torch to the new generation.
The reunion of those founding trio members, now in their late 40s, has been a far more strained enterprise. Mr. Guard left in 1961 and Mr. Reynolds in 1967, when the group folded until Mr. Shane's purchase of the Kingston Trio name five years later. He is touring around the country with two other singers, keeping the old music alive with moderate success.
Messrs. Guard, Reynolds and Shane, however, hadn't appeared together for two decades until last November. That performance before a two-thirds-full house at Magic Mountain Amusement Park near here was taped by the Public Broadcasting Service as a 90-minute fund-raising special. (It airs tonight and tomorrow night in Los Angeles, and Tuesday in New York.)
For one thing, the three men don't seem to like each other much any more, and despite the program have little apparent desire to sing together again. And organizers of the PBS show who had been trying for years to reunite the original trio have discovered--to their surprise--that there isn't a great public demand for it either.
Could it be that people have forgotten that the Kingston Trio isn't just another "oldie"outfit? The group is, after all, the originator of the folk-singing craze of the '50s and '60s, with a still-audible influence on today's pop music.
The trio's album sales from their early years together still rank in the recording industry's top 10. Coming right at the time stereo was introduced, the group was among the first to score more heavily with albums than with single records. But the trio made a more indelible mark through its popularity among high schoolers and collegians. How often did those school parties dissolve into guitar-strumming and rather desperately harmonized versions of "Tom Dooley" and "Tijuana Jail"?
While it may have been the music of Peter, Paul and Mary, Bob Dylan and others that later helped politicize the same audience for the civil rights and anti-Vietnam war movements, it was the Kingston Trio that provided the prelude for all those more provocative artists. Today, it's still easy to hear overtones of the trio in such groups as the Eagles or Fleetwood Mac.
In the PBS special we hear folk music at its most innocent. There's the rollicking good fun of "M.T.A.," that story of the man trapped on the Boston subway because of a fare increase he couldn't afford. Any of the other 13 trio songs on the show--"Worried Man," "Greenback Dollar" and "Scotch and Soda," for instance--could transport the middle-30s viewer back into high school for a few minutes. At first it maybe hard to tell that there's friction among the original trio members; they clearly are enjoying the chance to do their old numbers in this rare new spotlight. They're still performers, after all. Notice, however, that there's no embracing among the old buddies, and that they don't joke among themselves as they did in those now-famous early albums and in concerts at San Francisco's "hungry i."
The maturity is vocal, but not always personal.
If oldtime trio fans tune to to see the original members, "I think they'll be disappointed," said Dave Guard after the taping. "The show was more of a promotion for the Kingston Trio that's performing these days." "That's exactly what it was, and if he doesn't like it, it's tough," responds Bob Shane. "Dave Guard sold his interest in the Kingston Trio for cash money--$300,000--and I'm not going to feel sorry for him. I don't enjoy singing with him; I don't enjoy his voice."
Mr. Shane finds his own trio today "more musical; essentially we're a better group." Wherever it sings, it sticks to the old standards, he says, because "people want nostalgia."
Nick Reynolds doesn't get embroiled in much of this. He laughs about the disputes and says he was "the peacemaker" in rehearsals for the PBS show. "That was always my job," he adds. "Bobby's trying to make a living" by doing songs the old way, while Dave, the original lead member of the group, wants to innovate. "Dave wanted to do about 19 chords in 'Tom Dooley'; it's a two-chord song."
The great success of their youth left all three with a rare freedom to pursue their widely divergent interests. Mr. Guard divides his time between his northern California and Hawaii homes. Still writing music, he also is a student of folklore, having written a book on the ancient Irish "Deirdre" legend. Mr. Shane has the national touring life he loves. And Mr. Reynolds has been living what is perhaps the dream of many executives who'd like to call it quits in mid-career: the life of a rancher in Oregon.
In other words, enjoy the reunion. It may be another 20 years for the next one.
------------------------
Mr. Harris is a member of the Journal's Los Angeles bureau.