them". Indeed, you can hear many influences in Shane's style - from Hank Williams choke rhythm to Hawaiian slack key (Bob was a big fan of legendary Gabby Pahinui) to bluegrass bass runs and fills. A physically powerful player, Bob always led the group with a solid, right-onthe-note rhythm. Many, in fact, regard Bob Shane as one of the very best acoustic rhythm players of the entire folk era.
Bob's guitar of choice has always been the Martin D-28. Long popular with country and bluegrass musicians, Bob's use of the instrument exposed the D-28 to generations of new guitar players worldwide making it Martin's most popular model of all time.
In 1997, Martin commemorated The Kingston Trio's contribution to popular music and their loyalty to Martin guitars, with a special three instrument edition (which included a D-28, an 0-18T tenor, and a Vega replica long neck banjo).
Now, to commemorate the 45th Anniversary of The Kingston Trio, and to offer special recognition to Bob Shane for his enormous influence as a guitarist, Martin is proud to present the Bob Shane D-28KTBS Limited Edition guitar.
In designing this superb instrument, Martin closely examined Bob's original 1957 D-28 which was purchased at Bergstrom Music in Honolulu, Hawaii (his home town). This guitar, still in excellent condition, was used in the Trio until 1960. In addition, specs from Bob's 1960 D-28 were referenced as well.
The D-28KTBS is a 14-fret Dreadnought crafted of select East Indian rosewood back and sides, coupled with a premium Sitka spruce top. Scalloped 5/16" X-top bracing, shifted 1" from the soundhole in the prewar style, is utilized for enhanced tone. Traditional 28-style appointments include checkered back
inlay strip, Style 28 rosette and top inlay, and grained ivoroid bindings, heel cap and end piece.
The solid mahogany neck features a square tapered headstock with polished lacquer head plate (using the old style scroll logo decal) and handcarved diamond volute. The satin finished neck is fitted with a genuine ebony fingerboard and inlaid with mother-of-pearl position dots, "The Kingston Trio" logo between the 11th,

The D-28KTBS Bob Shane Signature guitar, shown here with Shane's original "josh White" oversized double black pickguards. may also be ordered with a more traditional polished and beveled vintage tortoise-colored pickguard.
12th and 13th frets, and "Bob Shane" pearl signature between the 19th and 20th frets. The belly bridge, also of genuine ebony, features the newly engineered vintagestyle long "drop-in" saddle.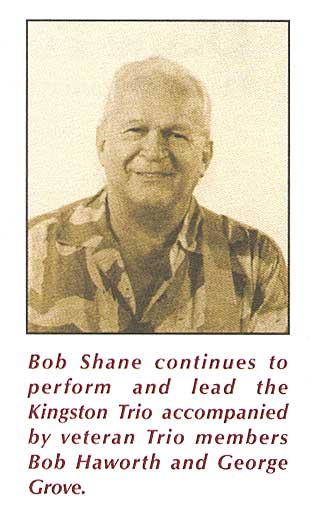 Other features include white bridge and end pins with tortoise colored "red eye" dots, Grover 102C Rotomatic tuning machines, genuine bone nut, and a beveled and
polished tortoise color pickguard. The body is finished in our highest grade polished lacquer; the top features aging toner, as well. Each guitar will be numbered in sequence and personally signed by Bob Shane and C.F. Martin IV, and will be delivered in a deluxe Geib® style vintage hardshell case.
For real Kingston Trio aficionados, the D28KTBS will be offered with the "Josh White" oversized black pickguards at an additional charge. In 1963, these style guards were affixed to Bob's 1960 D28 by Harmon Satterlee, the San Francisco luthier and Martin dealer
who did virtually all of the repair work on the Trio's instruments. Bob had picked up the idea from folksinger Stan Wilson (who had picked it up from blues artist Josh White) as a way of preventing complete wearing through of the top from heavy pick usage. These guards would become a Shane trademark of sorts among
Trio fans. Orders for the D-28KTBS will be accepted by Martin dealers and distributors until April 16, 2003. After the ordering period closes, the size of the edition and the names of participating dealers will be posted on the Martin Web site at: www.martinguitar.com.
For those who love the music of The Kingston Trio and the infectious rhythm that still drives it, the D-28KTBS Bob Shane Signature Edition model is an absolute must.