THE KINGSTON TRIO PLACE
PRESENTS
DIETER FOLGER'S
TRIOBASE FOR WINDOWS Version 1.6c
(Get MACINTOSH VERSION 1.3 Here)
A SEARCHABLE GUARD/STEWART KINGSTON TRIO RECORDINGS DATABASE WITH LYRICS & GUITAR CHORDS, AND NOW With JUKEBOX FUNCTION!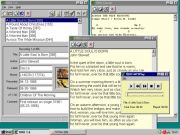 Version 1.6c Screen-shot (click to enlarge)
New features include:
Jukebox for playing locally stored MP3 Song Samples of Kingston Trio songs!
Guitar chords to over 50 songs accessible by clicking on the Guitar icon!
Smaller file size for quicker downloading!
Thanks to the computer-programming expertise of Dieter Folger, a regular Kingston Trio Place visitor, we now have available for you the latest version of this unique, searchable, easier-than-ever to install and use TRIOBASE FOR WINDOWS VERSION 1.6c database of Guard/Stewart Kingston Trio recordings. New to this version is Jukebox feature that enables you to play MP3s of Kingston Trio songs right from the triobase program. You must have MP3s of the songs you select already on your computer for this feature to function.
The searchable TRIOBASE FOR WINDOWS Version 1.6c is a Windows 95 & Later-based operating system program that can be downloaded from The Kingston Trio Place Web site. This program is easy to download and install, and simple and enjoyable to use.
Click on the "CLICK HERE TO DOWNLOAD TRIO1.6c NOW" hyperlink at the bottom of this page, and when the "File Download " box comes up, click the "Open" or "Run" button (depending on your browser's nomenclature) and follow the prompts, accepting all proffered choices. This is the quick and easy way, and although this is an .exe file, it's safe to let the "File Download " manager Open and install it! If you prefer, you can also save the .exe file to a directory on your computer and install it from there.
Dieter has included a comprehensive help section that is accessed by double-clicking on the "Help" menu within the Triobase program.
Many thanks to Dieter Folger for his kind generosity in making this fine program available to Kingston Trio Fans everywhere!
This program and page updated January 25, 2008.
CLICK HERE TO DOWNLOAD TRIO1.6c NOW!