THE KINGSTON TRIO PLACE
PRESENTS
DIETER FOLGER'S
TRIOBASE FOR MACINTOSH Version 1.3m
(Get WINDOWS VERSION 1.6c Here)
A SEARCHABLE GUARD/STEWART KINGSTON TRIO RECORDINGS DATABASE WITH LYRICS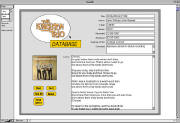 Screenshot (click to enlarge)
Screenshot Of Triobase For Macintosh Version 1.3m
Thanks to the computer programming expertise of Dieter Folger, a regular Kingston Trio Place visitor, we now have available for you this first Macintosh version of this unique, searchable, easier-than-ever to install and use TRIOBASE FOR MACINTOSH VERSION 1.3m database of Guard/Stewart Kingston Trio recordings.
The searchable TRIOBASE FOR MACINTOSH Version 1.3m is a Macintosh OS 7 - 9.x program and it will run in OS X in Classic mode. This program is easy to download and install, and simple and enjoyable to use. Many thanks to Tim Riley for compiling Dieter's Triobase into a Macintosh version!
DOWNLOADING THE PROGRAM
1) Click on the "CLICK HERE TO DOWNLOAD TRIO13m NOW" hyperlink at the bottom of this page.
2) Create a new directory to download and save the file to.
3) Once downloaded, just double-click on file to start the installation process.

-----
Please read the "ReadMe" file that comes with the program for Dieter's comments and some basic instructions. You can also view the "ReadMe" by clicking the "About" button in the program itself.
Again, many thanks to Dieter Folger & Tim Riley for their efforts in making this fine Macintosh program available to Kingston Trio Fans everywhere!
CLICK HERE TO DOWNLOAD TRIO13m NOW!