A meeting place for fans, old and new, and for folks about to discover the magic! In 1957, they began creating the memories we love today.
Over four decades later, and still going strong, they are creating the memories we'll love tomorrow ...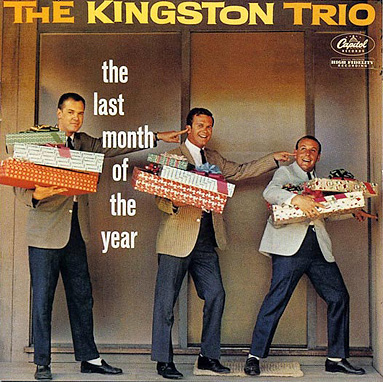 Dave Guard, Bob Shane, Nick Reynolds
THE LAST MONTH OF THE YEAR, Capitol T/ST 1446, Released: October 1960
SEARCH THE KINGSTON TRIO PLACE
Kingston Trio Information
Communicate With The Kingston Trio & Fans
Looking for Kingston Trio Albums, Clothing & Collectibles?



Get it all at
The Kingston Trio Store
Free Downloads!
KINGSTON TRIO TOURING SCHEDULE
For information on booking The Kingston Trio, please contact Bob Shane at: kingstontrio@cox.net
DATE

WHERE

VENUE

INFORMATION/NOTES

1/12/2016 - 1/17/2016
Laughlin, NV
Riverside Resort Hotel & Casino
http://www.riversideresort.com/headliners.aspx
2/14/2016
Tucson, AZ
Fox Tucson Theatre
foxtucsontheatre.org
2/16/2016
Tulsa, OK
Will Rogers High School Auditorium

A Tribute to Woody Guthrie

1-866-9protix

2/20/2016
Yuma, AZ
West Wind RV Resorts
westwindgolfresort.com
3/4/2016
Vero Beach, FL
Emerson Center
http://theemersoncenter.tix.com/Event.aspx?EventCode=779591
3/6/2016 - 3/7/2016
Venice, FL
Venice Theatre
http://venicestage.com/
3/9/2016
Willow Street, PA
private date, not open to the public
3/24/2016
Pinehurst, NC
private date, not open to the public
3/30/2016
Stoughton, WI
Stoughton Opera House
http://stoughtonoperahouse.com/
4/1/2016
St. Louis, MO
Sheldon Concert Hall
http://sheldonconcerthall.org/
4/3/2016
The Woodland, TX
Dosey Doe
https://tix.extremetix.com/Online/?siteID=2562
4/23/2016
North Myrtle Beach, SC
Alabama Theatre
http://alabama-theatre.com/
4/24/2016
Newberry, SC
Newberry Opera House
http://newberryoperahouse.com/
4/30/2016
Baltimore, MD
Meyerhoff Symphony Hall
with Barry McGuire and New Christy Minstrels
5/1/2016
Virginia Beach, VA
Sandler Center
5/18/2016
Olympia, WA
Washington Center for the Performing Arts
5/19/2016
Kirkland, WA
Kirkland Performance Center
5/20/2016
Bremerton, WA
Admiral Theatre
5/21/2016
Bend, OR
Tower Theatre
5/23/2016
Bandon, OR
Sprague Community Theatre

7/15/2016 - 7/17/2016

Las Vegas, NV
South Point Hotel & Casino
Comments, suggestions, questions? E-mail Ken (K3P) at KLAING@rochester.rr.com
Mastered by Shady Grove Productions