Review of The Kingston Trio: The Guard Years
By P.J. March
pjmar@ptdprolog.net
11/23/97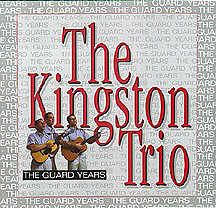 Bear Family BCD 16 160 JK
At first I wasn't sure if I wanted to spend the $200 on the The Kingston Trio Guard Years boxed set from Bear Family Records, since much of the material had already been released on CD from Capitol, Folk Era, and Vanguard. After seeing and listening to the ten CD set I can safely say that it was worth every penny. In addition to every officially released recording from The Kingston Trio of Dave Guard, Nick Reynolds, and Bob Shane, it includes many priceless rarities which I will discuss later. Also included is a beautiful LP sized 108 page hardcover book, containing many rare color and black and white photos. Many of the photos come from the same sessions which produced the album covers along with much memorabilia from the Trio members themselves.
The biggest surprise I found in the set was the inclusion of 17 previously unreleased live stereo recordings from July 13, 1958. These tunes were part of a 29 song concert recorded possibly at the Hungry I or the Purple Onion in San Francisco prior to their huge success with Tom Dooley. Twelve of these tunes had been previously released by Folk Era Records in 1987 on a CD entitled "Stereo Concert Plus". At the time it was thought that these tracks came from the same December 15, 1958 El Paso, Texas concert as the Stereo Concert LP. It was only discovered by Bear Family, while assembling the masters for the "Guard Years", that these recordings were not from the El Paso concert but from a previous club performance. The previously unreleased live cuts are Three Jolly Coachmen, South Coast, Gue Gue, Dodi Lii, Zombie Jamboree, Go Where I Send Thee, Sloop John B, Hard, Ain't It Hard, Banua, New York Girls, Scarlet Ribbons, Coplas, Fast Freight, Tic Tic Tic, Tom Dooley, Wimoweh, When The Saints Go Marching In. All the hilarious between song patter is included providing for a time-capsule view of what it was like to see the Kingston Trio in 1958.
The other real treat is the inclusion of demos recorded by Dave Guard's early and pre-Kingston Trio groups. These are taken from acetates so there is a fair amount of surface noise present, but that doesn't distract from the historical significance of hearing these tunes. There is no mention of who exactly is performing on these recordings, but I really can't hear Nick Reynolds or Bob Shane. Dave handles the lead vocals on all but Without My Lover which features a female voice, presumably Barbara Bogue. Two of these tracks, Run Joe and Fast Freight were included in the 1996 release, The Capitol Years. It only makes you realize how much of a talent Dave Guard was at a very early age, and how much he had to do with the success of the Kingston Trio. These demo tracks include great performances of Cha Cha Boom, Come Back Liza, Jamaica Farewell, Kisses Sweeter Than Wine, Lolly Tu Dum, and two versions of Without My Lover.
There are also a number of alternate takes included, the highlight being a superior version of Sally (Don't You Grieve). This version was actually recorded prior to the 45 version which appeared as the B-side of Raspberries, Strawberries. What makes this recording so much better is not the performance but the sound quality. This version was recorded in Capitol's Studio B, while the 45 version was cut at the Denver session which produced the Raspberries Strawberries 45 single. I've always felt that the Denver recordings were very thin and flat sounding. Wimoweh, and Tanga Tika/Toerau are from the sessions that produced the Trio's first LP. Studio versions of New York Girls and When the Saints go Marching In are also included. These tracks, which include a drummer, come from sessions recorded when Capitol was still not sure how to handle the Trio. The studio take of Gue Gue, which was actually edited into the Hungry i LP when the live version was deemed unreleasable, is heard here in its entirety. Also included are alternate takes of A Worried Man, Green Grasses, Don't Cry Katie, The Mountains O'Mourne, Mangwani Mpulele, Carrier Pigeon, and Home From The Hill without the orchestra overdub. The entire 1959 Newport concert is also included with the only previously unissued cut being Coplas. An entire disc is also devoted to the radio and television commercials recorded by the Trio for 7-UP along with a version of Run Joe taken from a 1960 TV appearance. There are also several versions of Tom Dooley by other artists, including the original version by Grayson & Whitter, along with several Tom Dooley inspired recordings.
I would highly recommend this set to any Kingston Trio fan. I ordered mine through Rediscover Music (The Folk Era people at 705 South Washington, Naperville, IL 60540-6654, 1-800-232-7328) and received it in less than a week. I must mention that the sales of this set will determine whether Bear Family will go ahead with their planned releases of the Stewart Years, and Trio related sets including the Dave Guard and the Whiskeyhill Singers LPs, The Cumberland Three, and Bob Shane's solo cuts for Decca. Bear Family also has a web site: http://www.bear-family.de/
Enough said, here's the track-by-track listing:
CD-1: Hard, Ain't It Hard - Three Jolly Coachmen - Scotch And Soda - Tom Dooley - Sloop John B - Coplas - Santo Anno - Fast Freight - Bay Of Mexico - Banua - Saro Jane - Wimoweh - Little Maggie - Dodi Lii - Medley: Tanga Tika/Toerau - Sally (Don't You Grieve) - Blue Tattoo - Scarlet Ribbons (For Her Hair) - When The Saints Go Marching In - Gue Gue - New York Girls - Como Se Viene, Se Va - Ruby Red - Sally (Don't You Grieve) - Raspberries, Strawberries
CD-2: Blow Ye Winds - M.T.A. - Getaway John - Remember The Alamo - I Bawled - Corey, Corey - All My Sorrows - The Long Black Rifle - The Seine - Early In The Morning - The Tijuana Jail - Good News - Scarlet Ribbons (For Her Hair) - Bay Of Mexico - New York Girls
CD-3: Molly Dee - E Inu Tatou E - The Hunter - Green Grasses - Green Grasses - The Hunter - Coo Coo U - The World's Last Authentic Playboys - Bimini - Medley: Tanga Tika/Toerau - Don't Cry Katie - Just Once Around The Clock - El Matador - Raspberries, Strawberries - Farewell Adelita - With You My Johnny - With Her Head Tucked Underneath Her Arm - The Mountains O'Mourne - The Tattooed Lady - Home From The Hill - Mangwani Mpulele - Carrier Pigeon - Everglades - The Escape Of Old John Webb - Leave My Woman Alone
CD-4: Bad Man's Blunder - When I Was Young - This Land Is Your Land - Who's Gonna Hold Her Hand - The Tattooed Lady - Coast Of California - This Mornin', This Evenin', So Soon - South Wind - Buddy Better Get On Down The Line - Colorado Trail - Tomorrow - Goodnight My Baby - Mary Mild - Bye Bye Thou Little Tiny Child - A Round About Christmas - All Through The Night - We Wish You A Merry Christmas - Follow Now, Oh Shepherds - Somerset Gloucestershire Wassail - The Last Month Of The Year - Go Where I Send Thee - The White Snows Of Winter - Sing We Noel
CD-5: Utawena - The River Is Wide - Speckled Roan - Hard Travelin' - Sea Fever - Hangman - Don't You Weep Mary - Blow The Candle Out - Come All You Fair And Tender Ladies - Blue Eyed Gal - En El Agua
(Maria Christina) - Jug Of Punch - Bonny Hielan' Laddie - Oh, Yes, Oh! - Billy Goat Hill - Pastures Of Plenty - Guardo El Lobo - Mary Was Pretty - Run Molly Run - You Don't Knock - Leomon Tree - The Wines Of Madeira - Adieu To My Island - You're Gonna Miss Me - Senora - The Golden Spike - Razors In The Air - It Was A Very Good Year
CD-6: Introduction - 1st Set/Saro Jane - Santo Anno - Three Jolly Coachmen - I Bawled- South Coast - Gue Gue - Dodi Lii - Zombie Jamboree - Go Where I Send Thee - Ruby Red - Scotch And Soda - Watsha - Sloop John B - Hard, Ain't It Hard - Introduction - 2nd Set/Banua - Bay Of Mexico - New York Girls - Scarlet Ribbons (For Her Hair)
CD-7: Shady Grove/Lonesome Traveler - Coplas- Fast Freight - Tic Tic Tic (The Lost Watch) - Lei Pakalana - Pay Me My Money Down - Across The Wide Missouri - Little Maggie - Tom Dooley - Wimoweh - When The Saints Go Marching In - Tic Tic Tic (The Lost Watch) - Gue Gue - Dorie - South Coast - Zombie Jamboree - Wimoweh - New York Girls - They Called The Wind Maria - The Merry Minuet - Medley: Shady Grove/Lonesome Traveler - When The Saints Go Marching In
CD-8: Banua - Three Jolly Coachmen - South Coast - Coplas - They Called The Wind Maria - Zombie Jamboree - Tom Dooley - The Merry Minuet - Raspberries, Strawberries - When The Saints Go Marching In - Introduction By George Wein - Saro Jane - Coplas - M.T.A. - All My Sorrows - Remember The Alamo - E Inu Tatou E - Hard, Ain't It Hard - The Merry Minuet - When The Saints Go Marching In - Three Jolly Coachmen - South Coast - Scotch And Soda - Zombie Jamboree
CD-9: The Kingston Trio Sings For 7-Up/The Hunter - Oh, Cindy - The Kingston Trio Sings For 7-Up/Goober Peas - Blow Ye Winds - The Hunter/Oleanna - The Kingston Trio Sings For 7-Up/Corey, Corey - A Worried Man - The Kingston Trio Sings For 7-Up/Molly Dee - Oh, Cindy - Goober Peas - The Trio Sings For 7-Up/Three Jolly Coachman - The Kingston Trio Sings For 7-Up - Scarlet Ribbons - The Kingston Trio Sings For 7-Up - M.T.A. - The Trio Sings For 7-Up/A Worried Man - The Kingston Trio Sings For 7-Up - The Kingston Trio Sings For 7-Up - With You My Johnny - The Kingston Trio Sings For 7-Up/The Hunter - Blow Ye Winds - A Worried Man - M.T.A. (60 seconds version) - M.T.A. (20 seconds version)
CD-10:Tom Dooley (with German intro) - Medley: Tanga Tika/Toerau - Don't Cry Katie - The Mountains O'Mourne - Home From The Hill - Mangwani Mpulele - Carrier Pigeon - Run Joe (TV) - DAVE GUARD TRIO: Cha Cha Boom / Come Back Liza / Jamaica Farewell / Kisses Sweeter Than Wine / Lolly Tu Dum / Without My Lover / Fast Freight - KINGSTON TRIO: Without My Lover - Run Joe - Tom Dooley (GRAYSON & WHITTER) - Tom Dooley (LONNIE DONEGAN) - Tom Dooley, Jr. (MERLE KILGORE) - Tom Duley Rock (CLINTON BROOKS) - Tom Dooley Rock And Roll (CURTIS HOBACK) - Tom Dooley (german) (NILSEN BROS) - Tom Dooley II (german) (NILSEN BROS)
-- P. J. March